JAMES BOYD
Liar and romance scammer.
Uses dating site match.com
Claims to be resident of Altlanta, USA. A widower working abroad, usually Ghana, accompanied by his son "fred" as a self employed seller and buyer of Gold. Further claims Issah Rahman is his assistant in Ghana.
Note - scammers IP = 41.202.18.90 = Home in Ghana.
Telephone number used 00233249932215 (Ghana)
Address used for Fed Ex = Issah Rahman, 10 Pig Farm Street, Accra, Ghana, 00233.
Address used for Post Office = Issah Rahman, PO. Box OS 229, Osu, Accra, Ghana, 00233.
Fake USA address = 2025 Peachtree Rd NE Atlanta, GA 30309
Mail addresses used
[email protected]
[email protected]
This callous scammer will use the imaginary son, sudden accident, requiring money for treatment and transport costs back "home". Also he may claim to have been arrested because his bank account has been frozen. This scammer uses every opportunity to play the guilt card on his victims, even replying as "his son" to report himself being injured in a traffic accident, requiring emergency surgury at Manna Missions Hospital.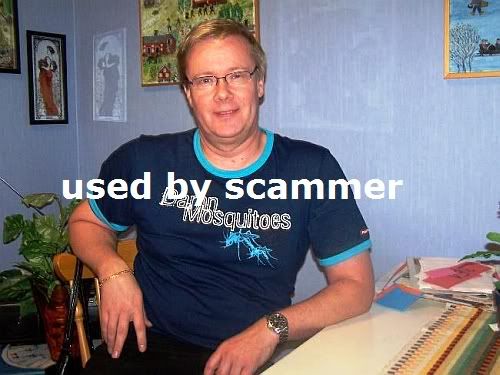 This scammer prefers to use mainly chat YIM and will avoid telephone, during chats he will use short replies and profess his love often. He may try to convince you to send him a laptop, tells about his problems and needs money constantly.
Below are some of the prewritten scripts he will paste into his chat;
Hmmm, where to begin... During the day, I work in corporate strategy. During the evening, SuperHero Crimefighter! Both of these keep me busy and traveling a little - but I work from home so it balances out!
All in all, I'm really happy with life. But I'd like to add spice to my time on this planet earth with someone who knows how to have fun, laugh and perhaps something special. The weekends are my escape time -usually I head down to my place at the lake to relax or I'll stay in town and work on my house. So I'm one half city-boy and one-half country. I love going out - especially to jazz clubs or new restaurants, but also really enjoy staying in with someone! I look forward to trying new things and meeting new people..
If I had to describe myself, I'd say one-half cowboy and one-half scholar. I'm really just a man - with all the faults and features. But I'm true to myself and my beliefs. I don't live for other's approval or try to mold myself into their image. I approach everything with a confidence in who I am and what I have to offer. It's really benefited me in my career and with my deep, long-lasting friendships.
On a more serious note, I'm also a hot tub nut! I got addicted to them from traveling on business.
After being cramped up in a plane, I used to love nothing better than relaxing my long legs in the hotel's hot tub. Well, it didn't take long until I found one on my porch outside. (ya gotta love santa!) I love going down there with a good book and reading to relax..
A perfect picture cut to pieces may seem to be no good, Though once completed tells a story as every picture should. It all depends on where one starts, or if one wants to know, They'll take the time to reconstruct to find out how it goes. Patience, time, and understanding are needed to progress, If one may try to hurry through, it could create a mess.
With each piece placed it begins to show a beauty held inside, Which each and everyone possess, yet some may try to hide. Some succeed, as others fall, while most just play there part, In hopes to find that missing piece to the jigsaw called our heart.
To describemyself??? Well I\'m quite lade back, enjoy the simple things in life, as well as a few fine things once in a while*smile* I enjoy creative writing in my spare time, (small poems, country songs) I do enjoy singing/karaoke as well as travel, movies, dinning out, and dancing from time to time... I am quite old fashioned which is to state that I am for the most part a true gentleman...
At this pointin my life, I'm very comfortable with who I am. I enjoy my independence but still hold out hope to meet someone special. I want someone who believes in love and commitment. I believe both friendship and'chemistry' are important in a relationship. I like people who are outgoing with a great sense of humor. Someone that appreciates their own time as well as that spent with a significant other
I'm an easygoing person who can laugh at themselves and looking for someone with the same attitude. One wise man said, 'One-half of knowing what you want is knowing what you must give up before you get it'. If I could be one thing in the world, I'd be a tear born in your eye, Livingon your cheek and dying on your lips.
Things I've learned about life and relationships: 1. Be adventerous 2. Take Risks 3. Maintain a healthy life/work balance 4. Everyone has baggage. Deal with it and move on. 5. What goes around comes around. Be honest and treat others with respect. 6. Be comfortable in your own skin 7.Being alone is better than being with the wrong person or for the wrongreasons. 8. Games are something we played in high school. I consider myself a very fortunate person. I have a wonderful life that's comprised of great friends and family. I'm healthy, independent,successful, and try to make the most of what life has to offer.
Last edited by
The Enchantress
on Thu Jul 23, 2009 4:49 am, edited 1 time in total.
Photos - are scammers using yours?
click here
Are you falling for a love scammer?
click here
Never send money by Western Union/Moneygram.
Never give personal information.
Online anyone can claim to be anyone, any age and from anywhere.