Sybil
35, Woman, Complicated relationship
Grantville, United States
Looks for: Man
55 - 99 years
Within 164 kms
Long-term dating, Short-term dating, Friendship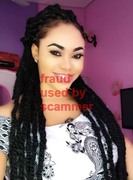 My self-introduction
I have a goofy and quirky sense of humor but I'm also fascinated by nature, the interactions and relationships between people and enjoy having a good time. I love kids and like going to the movies and music (most types)." I would like to meet someone honest on here and then we get to know each other first and know what it goes from there. Friends first.
What I am doing with my life
I am doing very best to live a happy life, I am
a jeweler.
Things I like about myself
I like everything about myself and love learning new things.
My favourite indoor activities are
I like watching TV, and spending time
Hey my name is Sybil from Georgia, Grantville. Lets chat on hangout

[email protected]