NATALIA/NATASHA VOLKOVA
Natalia Volkova
Aka Natasha
Liar and romance scammer.
Claims 24 or 25 years old - address - app 55, 15 Sovetskaya St, Nizhniy Novgorod, Russia.
dob 10th March 1985 - Single never married - no children - both bisexual and straight.
attended Pedagogical university 2001 - 2006, now a tutor at kindergarten
Uses phone number +74956600200
Mail addresses used
[email protected]
[email protected]
X-Mailer: The Bat! (v3.98.1) Professional

IP = 195.88.32.102 = Latvia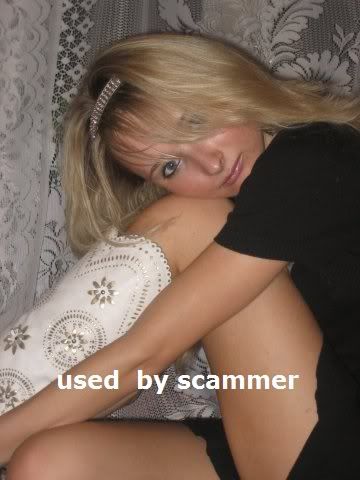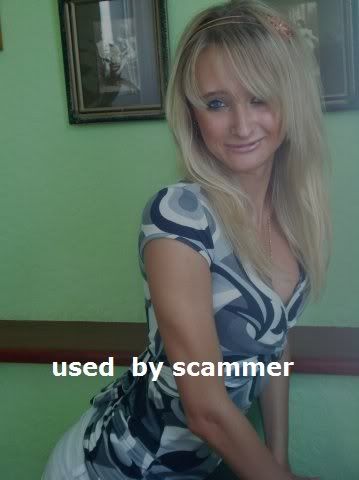 Operates on dating site - Anthea Club;
http://antheaclub.com/index.php?page=view_profile&id=17839
Natalia Member Name: natashalovekissa Member ID: 018566
Caucasian / White, 24, Single - Never Married Nizhni Novgorod, Russian Federation

Personal Details

Gender: Female Age: 24 (10-Mar-1985)
Race: Caucasian / White Marital Status: Single - Never Married
Children: 0 Religion: Christian / Orthodox
Drinking: Non-alcoholic beverages only Smoking: Never
Food: Russian Occupation: Other
Education: I'll tell you later Languages: English (Spoken and Written)
Russian (Fluent)
Interests: Cooking Dancing Gym / Aerobics Movies / Cinema
Museums / Galleries Music - Classical / Opera Music - Dance / Electronic
Music - Pop / R&B Nature Theatre / Ballet Travel / Sightseeing
Eye Color: Blue
Hair Color: Blonde
Body Type: 54 kg = 119 lbs
Height: 170 cm = 5' 6.9"

Looking for man 27 - 45
Also on this dating site;
http://www.syl.com/15470757p
My name is Natalia. I am a 25 years old girl from Nizhnii Novgorod, Russia.

About myself I can say the following: I have blue eyes and my hair is blond. I am athletic and I am of medium stature.

I'm bisexual and at present I am single.

I'm here for making friends and for dating

Briefly about my habits: I am a night owl. I don't smoke.

I live with my parents. I have no children and I dont want to have as yet.

Hi. I want to find here second half. If you accept mine profile I wait your letters.

Mine e-mail

[email protected]

.

I am honest hard working lady who is just mainly interested in meeting nice ,kind hearted and interesting men. Im not looking for someone to play with my heart but the right man of my dreams. I'm here just trying a new venue into which i can meet people. I live my life by the motto "the worst risk you can take in life is not taking one",I love when a man care so much for me and takes me out on a date.I've only been on a few and always enjoyed just talking and getting to know him. I don't need him to bring me anything or do anything except sit and talk during a fantastic dinner. A sense of humor is incredibly important. It's great to be able to sit down and just have a sense of playfulness about each other.I hope some of you find me interesting enough to respond. Yours faithfully, Natasha.
Also on this dating site;
http://www.hellodarling.net/onlinedating/view_profile.php?user=197711
Mails;
Congratulations!

My name - Natalia. But friends to me name simply Natasha.

I am very serious in my intentions to find Serious long attitudes a marriage of term were based on full love Equality, mutual understanding and respect to each other.

The love it is fine. If you have become interested in me, I with impatience wait your letters!!!

My e-mail -

[email protected]

.

Sincerely yours,

Natasha.
Hello.

I am pleased to see your letter. It is pleasant for me to know that you want to find out me better and that you search for the same relations as I. I hope that our acquaintance will be interesting and will change all our life. In this letter I want to tell to you not much about myself that you could to understand what I the girl. To me of only 25 years and I very young. But age when did not play for me a role. I search for the man which will be more senior me and I am not afraid to build with him the relation. But all over again we should find out each other better. I very well know English and I can freely speak in this language. I was born and live all in one city. My city very beautiful and him the name Nizhni Novgorod. I live together with my mum and the sister in to small apartment. My sister still to study, but is fast she to stop study also wants to go to work. I work in a kindergarten as the tutor. I very much like my work because I very strongly love children! I was never married and I have no what children. But I very much want to find the man and to have children from him. I really love children and I want to have the. I want to try to build serious relations with you and that create happy family. I shall be very pleased, if you as will want it just as me. In this letter I only want to show you what I the girl but if you are ready to find out me better, then write to me and I shall tell to you more about myself. Also it will be pleasant for me to find out you better And to see your photos. Now I shall finish the letter and if you really be interested in me then I wait for your answer.

Yours Natasha.

P.S. Send me your foto pls.
Hello xxxxx!

How are you doing? I hope that at you all perfectly. Thanks for a prompt reply. I very much want with you to get acquainted and consequently I want to find out about you more. I very well am able to prepare, as I was learned by my mum. I am sure that you can to try my dishes and they will like you. Now I want to tell to you slightly about my city. It is near to Moscow. But in comparison with Moscow our city not such big. Nizhni Novgorod - ancient city with fine architectural constructions. Not simply separate monuments, and the whole streets storing memory of a history of our city. I hope that to you interestingly to find out about my city more. At us it is a lot of rivers and it is sometimes simply surprising to leave for a wood and to make small walk. It will be interesting to me to find out something about your country and city. Also I think that you want to find out about my hobbies and a hobby. I like to go in for sports and try to hold a figure in the form. As I know that men are involved with harmonous girls. And still I read romantic books. I work in a kindergarten and at me not enough time to communicate with you. But I shall always answer to try to you as soon as possible. I work 6 days in a week. My day begins in 6.30 mornings as I should be on work already at 7.00 o'clock. Now I need to go, but I shall look forward to hearing from you and I shall try to tell to you about myself even more that you could understand what I the person. I shall wait for your fast reply.

Yours
Natasha.
Hello xxxxx,

How are you doing? I am glad to see your letter again because your letter is filled with honesty and kindness. You very good and attractive person!!! I am glad that our acquaintance every day all moves ahead. I am glad to know that you also are interested in me and I see your attitude to me, it is pleasant for me that you seriously concern to our acquaintance. I shall tell to you about the day, he was very bad for me. My day has not developed since the morning when I went for work and passed street, the machine passing past has poured over me water, but was farther even worse when I have run to be in time on the bus and to go for work I has broken shoes, I have been very much afflicted with it. How has passed your day? The attitude between the man and the woman are very important. The person should give the woman all love and care, he should do so that his woman was the happiest on the Earth. I very much want to speak about love. I a lot of time dreamed, as we sit at a fireplace. Candles burn soft, pleasant light. Wood of fire cracks in a fireplace a little. We look against each other and all our ideas concerning love. I always try to continue traditions of my family. If you have any questions, I always with pleasure shall answer them. Each yours I expect the letter impatiently. Do not leave me during long time. I shall look forward to hearing from you tomorrow

Sincerely yours

Natasha.
Last edited by
The Enchantress
on Thu Dec 17, 2009 5:00 am, edited 1 time in total.
Photos - are scammers using yours?
click here
Are you falling for a love scammer?
click here
Never send money by Western Union/Moneygram.
Never give personal information.
Online anyone can claim to be anyone, any age and from anywhere.