STINNET FREIDA
Liar and romance scammer
Claims 32 years old, divorced with no children, raised in the UK or USA, but currently living and working as "personal auditor" with (now deceased) "father" in Africa
Mail address used
[email protected]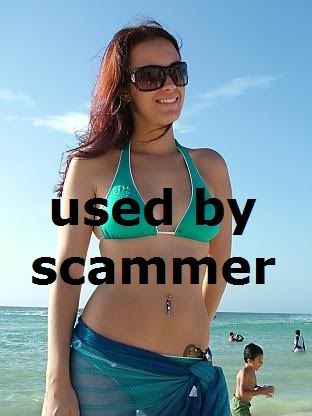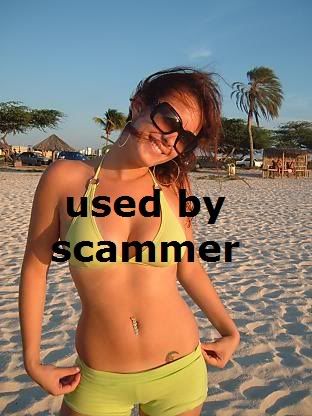 Mails;
I wouldn't know what exactly you want in a relationship,but i guess the most important thing is being honest with each other.Though i feel reluctant discussing about myself and my current situation to you,cos i don't know how you'll feel.But i guess its important that you know all about me and the current status i am in,so that we'll know if we are to move further.

I have had loads of bad experiences in my past relationship and i wouldn't want to fall into the same situation anymore.I want to count on you, as a respected and honest person with sincerity, trust and confidentiality.I will like you to give me your words that you'll treat me right,if we are ever going to be together.I am telling you all this, then you can decide if you still want to meet me or not, so that we will not waste each other's time.

I've been married for 2 years and now divorced without kids.

I've been having problems with my Late Dad who i live with but right now due to our differences, i have left the UK after the death of my Mom in United Kingdom. MY Dad works with Oil Contractors in UK and Africa include some parts of the Asian and American. I work with my father as his personal auditor and we move around for his contracts wherever he is awarded.

My first boy friend, Victor Glashow, absconded with my dad's money which was kept with me after a completion of a contract in EAST London,UK. When my boy friend got absconded with the undisclosed sum of US dollars, this brought the first broken up between me and my dad, cos he thought, we have the deal together, but not knowing that I'm an innocent about this. So my dad has been harsh and tough against me about this.

After all these happened to me and caused by my Ex Husband, Then when I perceived all his behaviors towards me and the bad acts of his newly gotten wife I joined a dating site (

http://www.cupidbay.com

) where I met an African guy online here who promised heaven and earth that he wants to marry me and make me happy in life; 'I never knew I was going from Fry-pan to Fire'. The African man told me of an investment opportunities in Africa and he convinced me to come along with lots of money while coming down, which I did. On getting here, all his intention was to take away the money from me and leave me alone..

I came from the United States with a total sum of 3.2 millionUSD with all the money I've gotten from my Dad's business and contracts renumeration before he died. Because the African guy told me of an idea to investment in Oil firms here. When I got here, he made all possibles means to get the money from me and get away with my money. Then when I noticed this, I took the money and my traveling boxes and deposited it with a Security/Insurance Company here in Africa in order to safe myself and my assets. Thereafter I left the guy's apartment to an hotel where I am in right now and from which I am communicating with you now.

Now, I'm in need of your help, I will pay for your rent and give you 30% of the total money in the boxes,only if you could be of help and be honest with me. have gotten the enough money to run myself when I get to USA, i want to come over to your end and we can start a new life together.I want a relationship that base on truth and love, I don't want to live here anymore, you know I'm a foreigner here and it is absolutely danger for me here, so that is why i need your gesture assistance.

How i want you to help me? I have some money, which I've gotten from an over invoiced Contract renumeration executed by my dad with some contractors in Trinidad and Tobago under an Oil Firm , that was the money I brought here for an investment while coming to meet the African guy, but I've hiding the money up from the guy here in West Africa and I've left his apartment, because i might got setup if I did not act fast, so for me to be more safe and secure, I put this money in 2 traveling boxes and got it locked up with a security code known to me only, and I deposited the boxes with some of my traveling luggages with a Security and Insurance Company who render private diplomatic delivery service and i told them that the two boxes are my traveling luggage, which I want to send forth to U.S.A because I'm returning home, then i paid them up their custody and security fee, but I did not tell them that the boxes contain money in order to make everything secure and safe.

So, I want the boxes sent to you while i catch up with you as soon as it is been delivered to you while I come over to meet you and we can start a new life together. Every arrangement for the delivery is kinda perfect, I have obtained customs papers for private freight and there are seals on the boxes showing that it is a private delivery and check performed, it is free from customs checks, it will be delivered at your door step by the diplomats of the security company, you do not need to burn out to receive it. And the boxes have security codes lock known to me only, only me can open the boxes, except if I tell anyone the Code, so the Boxes cannot be opened on the Way of delivery to you.

I am counting on you and i will really appreciate your trust towards this.Let me know if you are still interested in me and if you are willing to help me towards this so that i can give you the contact information of the Insurance company. Hope to hear from you soon.

here is my email :

[email protected]

God Bless...

Stinnett..
Last edited by
The Enchantress
on Fri Oct 23, 2009 7:59 am, edited 1 time in total.
Photos - are scammers using yours?
click here
Are you falling for a love scammer?
click here
Never send money by Western Union/Moneygram.
Never give personal information.
Online anyone can claim to be anyone, any age and from anywhere.