ERVIN NORBERT
Liar and romance scammer
User name used ervin_norbert01
Claims 37 years old, widower with dependant daughter "carla", living and working in London, England, UK
This scammer then has to take a business trip to Nigeria
Mail address used
[email protected]
Telephone number used +2348056487167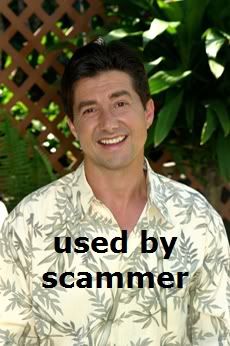 Mails;
Hello xxxxx,

How are you doing out there? I am fine here and my day went well for me and my daughter here today. I think about you here always and i just hope that we can continue mailing to get to know more about each other.

I just came online to say good night to you and i hope that you have a lovely night rest. I will mail you again tomorrow after church. I have attached some pictures of me in the mail for you to see me and i hope that you like me. Send me yours too in your next mail.

Hug to you,


Ervin
Pictures of my lovely angel. Carla hope you like her?
Hope you don't mind? That is me and my late wife Alice.
Hello xxxxx,

Good morning to you from here but i know it is not morning over there. How are you doing? Thanks for your mail. Let's spoil each other and live life to it's fullest ... no games ... no drama ... it is too short! It is so nice to read your email, i am very happy when ever i am reading your email you are really the source of my joy and the pillar of my happiness, thanks for that you have done for me.

I am sorry for the other guy and i am happy your choose me my angel, you never regret it my dear as i will always adore you and treat you the right way. Well don't know in paticular what you want to know now that i have not told you because i feel like to make you know everything about me so that when we meet we can be happy. I just want to make you part of me and that our life together will be a happy one, well all the same i will say the little that i can say for now.

I am the only child of my parent who both have die long ago, i decide to move to london after the death of my father, so i am the only person in this wide world with my only daughter she is 11 years old I lost her mother 5 years ago so i have been alone since almost about six years now. Dear when i got to london for the first year after the death of my father i have to carry on with his business which i am running now , i have no friend no brother no sister no family, now you are the only family i am having now and will plead you not to dissapoint me because i can not stand it anymore.

You will wonder why i am sounding this way, something happened to me here some years ago. A very trusted friend of mine betrayed me it was hard for me to recover from the trauma and heart break. There was this friend of my that i like so much and i trusted we used to work together in the gallery, a day came and i was to go on a business trip to buy some goods for my gallery since i dont have any one to take care of my gallery i told him to take care of my gallery for me because i trusted him very much, before i could get back from my trip he has disappeared to no wear so it was really terrible for me so i decide not to have any thing to do with friends anymore.

My decision was harh i know but it was due to the way i felt it, so after a long time my daughter was worried about me, so because i have decided not to have anything to do with friends to even in UK so that was where i suscribe to match.com and your profile was sent to me by match.com after going through your profile and with the constant disturb of my daughter about someone to call mother i have to write to you so you can come into my life and give us joy once more because you have all i need from a woman.

This is the little i can say now, all i have to say is thanks for responding to my message because it would have been dificult to write again to any woman, i will stop here till i hear from you ........


Lots of love,


Ervin.
Hello Honey,

Good morning to you and all around you, i hope my mail finds you well? I am glad to know that you would love to meet with me my angel. Due to the way you and i are getting closer and closer to each other each day. I have decided to share with you this details of my buisness trip to africa. I am traveling to west africa to buy arts from the black culture and i hope to buy from your country when i come to support (name of famous art exhibitor).

This has been on in my mind for some time now honey so i have to leave on sunday to africa to be able to get my want and i intend to come to you from there. It will be a dream come true for me to meet you face to face my love, to stand in front of you and look into your eyes to see the great love you have inside. To hold you close to me, kiss you and hold you in my arms and never let go of you my angel.

The buisness is worth alot of money that i just i can't wait to do this but i am a bit scare for i have not been to africa before and i know nothing or less about africa. I have to leave on sunday and i have to travel to Nigeria in west Africa. I will have to take only a one way flight and not a back and fro ticket so that i can come to you from africa my love.

I will be there for about one week honey and as soon as i have bought my goods and ship to London i will take a flight to come to you my love which means i will be there with you very soon so that we can see each other for the first time. I need you to send me your full contact address, phone number and the name and address of the nearest airport, the name and address of 5 star hotels near you so that i can book my reservation from africa where i going to stay while am there.

I hope to get all this information from you soon my love. I don't know if i can be able to get online as much is yet undone for my trip. I have been working on this buisness trip for days now and i am glad to tell you that everything is working as planned.

Any way honey i have to go now and i hope to mail you later and please have a lovely day and know that i missed you so much. I love you and i want to be with you soon honey. I think in less than two weeks baby we can see each other. I love you very much and please be safe for me.

Lots of love,



Ervin.
Photos - are scammers using yours?
click here
Are you falling for a love scammer?
click here
Never send money by Western Union/Moneygram.
Never give personal information.
Online anyone can claim to be anyone, any age and from anywhere.