DIANA COLLINS GATE
Liar and romance scammer
User names used Dianalove80 dianalove82
Claims 26 or 29 or 30 years old, dob 3rd August 1979, single, with a dependant "son" living in Los Angeles,California or Dallas, Texas, USA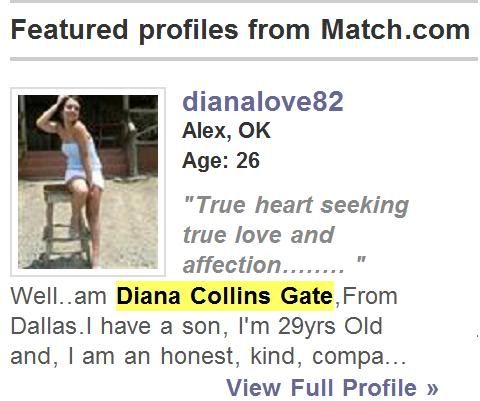 This scammer on this dating site;
http://profile.passion.com/p/member.cgi?dcb=passion&mid=175045924_27061
Dianalove80
Gender: Woman
Birthdate: August 3, 1979
(30 years old)
Sexual Orientation: Straight
Lives in: Los Angeles, California, United States
Marital Status: Single
Height: 5 ft 8 in / 172-175 cm
Body Type: Average
Smoking: I'm a non-smoker
Drinking: Prefer not to say
Education: Masters degree
Race: Caucasian
Bra Size: 44 / 100 DD (E, if no DD)
Speaks: English

Well..am Diana Collins Gate,From Dallas.I have a son, I'm 29yrs Old and, I am an honest, kind, compassionate, positive person looking for that special man to share life with. I am comfortable with where I've been and who I've been. I feel I've been blessed and I'm ready to grow some more; but I haven't found that partner in life.I want him to be my best friend. I want that type of relationship where he and I can look across a crowded room and communicate with our eyes. I am romantic and can be very spontaneous. I enjoy making people feel welcome and special. I enjoy entertaining especially parties around my pool. I go all out for holidays (I usually blow a fuse during Christmas). I grew up with many traditions, Halloween has always been one of my favorite holidays, haunted house included. I tend to go a little overboard...hey, life is too short. I am definitely one of those people who take time to smell the roses, appreciate the stars, sunrises and sunsets. I have to be honest.. I do not like snakes and bugs, so the camper, I'm not. Give me a hotel room at the beach with plenty of suntan time, and I'm happy. I will go fishing with you if you want, but sorry, I don't do worms. I just joined a gym, and I've been doing pretty well with going 3-2 times per week. I'm looking for someone to enjoy life with. I like to watch sports,to go bowling, I've tried skiing only once; that was funny. Had a ball snowmobiling. Like snorkeling, but am a little afraid to try scuba diving. I love to get dressed up. Am just as comfortable staying home in front of the fire in blue jeans. Love going to festivals, the zoo, the aquarium, museums, love antique shops--love to know the history behind something, anywhere. playing with our dog, a baby's laughter, cooking a huge dinner on Sunday afternoons, taking walks, taking drives...
Photos - are scammers using yours?
click here
Are you falling for a love scammer?
click here
Never send money by Western Union/Moneygram.
Never give personal information.
Online anyone can claim to be anyone, any age and from anywhere.