ANGEL GONZALES
Liar and romance scammer
User name used angelz05
Claims 22 or 23 years old, dob 5th February 1986, single, no children, "student" living in Banford, Florida, USA
Mail addresses used
[email protected]
[email protected]
IP = 125.5.37.131 = Makati, Philippines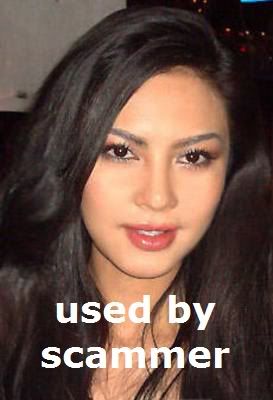 This scammer on these following dating sites;
http://www.blackplanet.com/angelz05/
Hi I'm Angel Gonzales of Branford Florida. I'm a half asian and half italian.
I love going out in the wild and getting wild.. I also love being in the couch and spending time doing movie marathon.
My friends and I often go out at night and look for fun. Most of the people I meet tsays that I am lovely.
They also say that I am easy to get along with. And I think it's not too much if I end up waking up in their bedrooms...
So if you want to know how lovely I am, just drop me a message in my e-mail it's aggrezziveangelatyawoo com. I might end up waking up in your bedroom too..
http://www.datemefree.org/profile.php?ID=122712
angelz05
- 23 y/o female
- FL, USA

ProfileType single
Sex female
Children 0
Want children Yes
Date of birth 1986 - February - 5
Height 5'8" - 5'11" (171-180cm)
Body type Slim
Ethnicity Asian
Religion Catholic
Marital status Single
Education College student

aggrezziveangel at yawoo com I want to meet guys who is out going and a lazy bone. It doesn't matter if he's adventurous or a couch potato as long as he treats me as her princess all day long. Hugs and kisses, attention and time is all I want. Not the fancy gifts like chocolate and flowers but I also accrpt these things If the treatment is right I might end up being your slave at the end of the day and it's up to you on what shall I do to you.. just drop me a message to my e-mail aggrezziveangel at yawoo com
Messages;
hey guys.. drop by
angelz05 add me up guys.. it's aggrezziveangel at yawoo dot com
My name is angel. I am a 23 years old girl from Branford, United States.
About myself I can say the following: I have black eyes and my hair is black. I am slim and I am not high.
I'm straight and at present I am single.
I'm here for making friends, to find like-minded people, for sharing photos, for chatting and for dating.
Briefly about my habits: I am an early bird. I don't smoke.
I live alone. I do not have children, maybe someday.
I like to meet new people that might change my life.. I am an outgoing person too so I like to meet someone who can catch up with me. I like to meet people who are also called couch potato, because having someone with different like is also an adventure for me.
Having a man who loves to go out and watch television is good.
Photos - are scammers using yours?
click here
Are you falling for a love scammer?
click here
Never send money by Western Union/Moneygram.
Never give personal information.
Online anyone can claim to be anyone, any age and from anywhere.