HANNA YAWSON
Liar and romance scammer
Aka Hannah Yawson
Claims 24 or 25 or 29 or 33 years old, dob 1st December 1976 or 27th March 1980 or 21st April 1984, "bisexual" living in Aaron, Bulloch County, Georgia, USA or Tema, Ghana
Mail addresses used;
[email protected]
[email protected]
[email protected]
IP = 41.218.205.20 = Accra, Ghana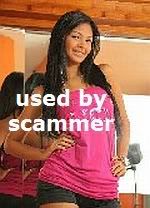 Messages;
I am Very Nice, Sincere, and Honest to begin with. I am open and truthful, kind and affectionate person. I am also a fun loving person, and easy to get along with. I think I have a great sense of humor, I am a generally positive woman, and I love having serious discussions about love and life. Plus on the other hand I enjoy having fun too. I value friendship and I am very Loyal. And I am a very warm person, very out going, I enjoy talking, going out for dinner, and movies. People say I am a very gentle and nice person. I am also passionate, fun, well intellectual, and a big believer in living every day and enjoying life to the fullest. I am full of Life, outgoing, a charmer, and a great Listener. If you take the time to look further than someone's looks, and You will find Your Soulmate.
Photos - are scammers using yours?
click here
Are you falling for a love scammer?
click here
Never send money by Western Union/Moneygram.
Never give personal information.
Online anyone can claim to be anyone, any age and from anywhere.