BERNICE WILL
Liar and romance scammer
User name used bernice123
Claims 30 or 32 years old, dob 1st August 1977 or 27th March 1979, single, transsexual, no children, "hairdresser" living in Accra, Ghana or Waltham, Massachusetts, USA
Telephone used 233275268545
Mail addresses used
[email protected]
[email protected]
IP = 41.210.28.254 = Accra, Ghana
This scammer on this dating site
<removed> MW
bernice123
- 32 y/o female
- waltham, USA
- hairdresser

ProfileType single
Sex female
Children 0
Want children Yes
Date of birth 1977 - August - 1
Height 5'4" - 5'7" (161-170cm)
Body type Average
Ethnicity African American
Religion Christian
Marital status Single
Smoker No
Drinker Rarely

....send me message please , i`m waiting for you...

i like to meet someone who will be sincere ,faithfull ,honest , and some i can trust cos true love is based on Trust .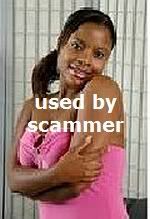 Messages;
well i am a woman looking for a honest man to marry within any country ... a man that can take care of me and also care for me and be ready for me ... u can contact me with this yahoo id so that we can talk there

[email protected]
define myself:

WELL I AM BERNICE CONTACT ME TO KNOW MORE ABOUT ME with this yahooid so that we can talk there

[email protected]
Photos - are scammers using yours?
click here
Are you falling for a love scammer?
click here
Never send money by Western Union/Moneygram.
Never give personal information.
Online anyone can claim to be anyone, any age and from anywhere.