SMITH KENNDY
Liar and romance scammer
User name used smithkenndy
Claims 39 years old, dob 15th May 1970, seperated, "contractor agent" living in Phoenix, Arizona, USA
Mail address used
[email protected]
IP = 41.220.75.16 = Nigeria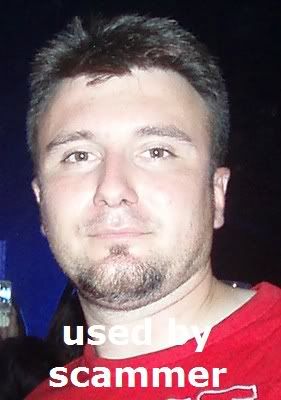 This scammer on this dating site;
<removed> MW
smithkenndy

Hello

Details 39 years old (Taurus), Male
Location Phoenix United States

my name is Smith Kenndy, i am a cool man i am God fearing and nice and also kind good looking, i love to read and always pray, i am handsome and nice.
Messages;
I'm very open-minded man and i don't think that the age and appearance is so important . The most important thing is what is inside you and how do you feel about the life. I know this life from many sides and I am rather mature already to know how to make a woman happy.... I think we should use every chance to find our happiness.Life is too short to use it only for thinking and dreaming. I try to act but not only to dream. i love outgoing,an easy going person. I'm also a very good listener so if you have any problems, you can talk to me.. I have really many interests:music, reading, books, computers, movies, good conversations, sports and many other things which make the life wonderful. . I can't say that I have many friends. I know many people but I am very picky about my friends. Friend is a person who will be with me all my life. And I am lucky to have some really good friends. I am rather independent. And work to be able to pay for the things I want to have in my life. In some words I can tell that I enjoy my life as it is and I love the life with all it's aspects and to overcome all hardships in my way I'm also very forgiving coz I have a very soft-heart....

...I'm also very understanding so I don't quite misunderstanding a lot. I really hope to get my bride here, i am tall 5.9inch hansome,inteligent,hard working,romantic,sexy handsome lol,attractive too,i like to laugh i am a business man and i also work as a contractor agent in comunication company in some west africa country such like ghana, senigal, nigeria and so on....i travel alot been to so many country like amstadams, germany, italy, dubai, china, south africa,new york,and others.
smithkenndy I want to find that special someone are you available ?
Photos - are scammers using yours?
click here
Are you falling for a love scammer?
click here
Never send money by Western Union/Moneygram.
Never give personal information.
Online anyone can claim to be anyone, any age and from anywhere.