ANNIE
Liar and romance scammer
User name used annie
Claims 36 years old, dob 4th May 1973, single, never married, no children, "nurse" living in Manitoba, Canada or New York, USA
Mail address used
[email protected]
IP = 41.210.24.64 = Accra, Ghana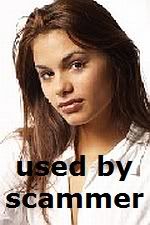 Message;
Am Annie never married, single with no kids. I don't smoke nor drink as well. I like to tour tourist sites and cook as well. I am loving, caring, honest, trustworthy, perceptive and sharing. I used to exercise 2-3 times a week and i believe that keeps me healthy always. I do cooperate with friends and others to observe their views and taught and i think that that keeps loving. I do hate ambiguous statement, undernourished people and people are not honest. This a little about me...

... I would like to meet a man with the sense of humor, very kind, honest, loving caring, trustworthy and God fearing man who is courageous.
Photos - are scammers using yours?
click here
Are you falling for a love scammer?
click here
Never send money by Western Union/Moneygram.
Never give personal information.
Online anyone can claim to be anyone, any age and from anywhere.