COLLINS COX
Liar and romance scammer
User name used sagaciouslawyer
Claims 44 or 49 years old, dob 7th November 1965, single, no children, American national, "law/legal/judiciary" living in London, England, UK
Mail address used
[email protected]
IP = 41.189.21.2 = Lagos, Nigeria
This scammer is using stolen photograph of novelist "Sir Ahmed Salman Rushdie"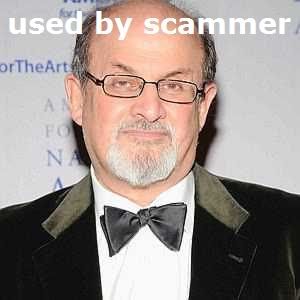 This scammer on these following dating sites;
<removed> MW
Age 44

City: London State London Country: United Kingdom

Birthday: 1965-11-07

Do Drugs NO
Marrital Status Single
Children NO
Want children Yes
Occupation: Law/Legal/Judiciary
<removed> MW
London, United Kingdom
Age: 44 years old
Name: Collins
Second Name: Cox
Looking for: Female (Single) 25 - 80 years old
Birthday: 11-07-1965
Country: United Kingdom London
Nationality: American
Academic degree: Bac
Profession: Lawyer

I am an easy going man, love fun and like to be plain and straigtforward.
Message;
I am an easygoing man, not too tall and average build. I love music, watching movies and jovial.
Photos - are scammers using yours?
click here
Are you falling for a love scammer?
click here
Never send money by Western Union/Moneygram.
Never give personal information.
Online anyone can claim to be anyone, any age and from anywhere.