EVELYN COFFIE
Liar and romance scammer
Aka Esther Coffie
User name used amponsah10
Claims 29 years old, dob 5th March 1980, bisexual, "florist" or "nurse" living in Arlington Heights or Alvin, Illinois or Virginia, USA or England, UK
Mail address used
[email protected]
IP = 41.210.24.170 = Accra, Ghana
This scammer is using stolen photographs of "Raven Riley"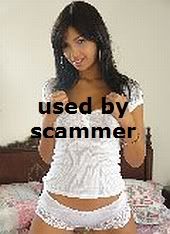 This scammer on these following sites;
http://www.migente.com/amponsah10/
Sex: Female
Age: 29
Location: Arlington Heights, IL
Race: White
http://www.datingaffection.com/showprofile.php?id=11722
Age: 29
Gender: Woman
Looking for: Man
Location: illinios alvin, illinios, United States

ok tell me about you,,,A little about me 1st I have worked as a certified nurse for the past 26 yrs. I am named Esther Coffie. I am a Christian lady im originally from Illinois I was raised on a farm I have lived in Va for the last 5 yrs now I am a honest and sincere person who a hopeless romantic , affectionate , compassionate, down to earth , easy to get along with , I enjoy the simple things in life fun loving person . I have many hobbies from sports to outdoor actives , nascar, traveling ,to most any thing . I am not looking for drama or games I am willing to relocate for the right man

I am passionate about god , family , life. My picture have all been taken with in the 4 days I am looking for my best friend 1st then someone I can commit to like till death do us part and someone to grow old with. love know no distance I live by these rules I may not walk in front of you and I will not walk behind you but I will walk beside you hand in hand and what ever life brings us we will get through together as one i do have pix in can share I hope you all find something good in this day to smile about me ok if you really like to talk to me then add me on my id so that we chat more and know about ourselves lol i am new here so add me so that we chat
Message;
HELLO i am evelyn from uk England and will like to now more about you and for you to know more about me,,i will like you to be sending me messages in to my mail or add me on my messanger id and that is

[email protected]

,,,,,i hope you will do like it and send me messages there too ok,,,bye now and take care hope to hear from you soon lol,,,,,,,miss you ...

... i seek a caring and loving man and also a man who is worthy to look after a lady and one thing i will say is that distance does not matter i can relocate to my soul mate when i find him ok,,,bye and take care
Photos - are scammers using yours?
click here
Are you falling for a love scammer?
click here
Never send money by Western Union/Moneygram.
Never give personal information.
Online anyone can claim to be anyone, any age and from anywhere.