This scammer pretends to be in the US military.
He will feed you lies and tell you how much he loves you in an attempt to get you to fall for him, once he believes you are hooked he will begin to tell you how he needs you to pay money for him.
The initial scam for this scammer will be for you to pay for him to be able to take leave, he will provide many documents to support his story and suggest that you need to pay the US army over 2,000 pounds, yes, highly unusual that the US military would deal in pounds, but then the US military would not be asking for fees to be paid in regards to leave any way.
After the fees for leave, the scammer will use his next excuse, this time he will need a phone that requires you to pay another fee, again he will use fake documents to convince you to pay this next lot of fake fees.
Everything you are told is a lie and there has been at least one lady who has lost money to this scammer, please do not be his next victim.
Details;
Cpt. CHRIS JOHNSON
Liar, fake military and romance scammer
Mail addresses used
[email protected]
He will introduce "The Colonel"
Col. Brad Anderson
Mail address used
[email protected]
(Note: USA.com is a free email providor and is in no way connected to the US military)
Then he will introduce the phone company;
[email protected]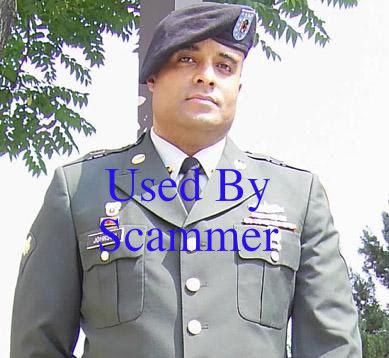 Emails;
Hello Sweetie,
Good morning...how was your night...i hope you were able to get a sound sleep...mine wasn't too bad....though i was tired and have pains in my body...but i would be fine honey...am so sorry the chat was brief last night....looking forward to a lovely one tonight as i think my day shouldn't be a lot stressful like every other days of this week....i would be fine honey...miss you so much....i care so much about you sweetheart and i say you are the best woman ever in my life...thanks for all the care and love towards me...i want to do more when am back home....i say you are a darling...do have a lovely day and look forward to chat with you later....lots of love...kisses and hug.
Chris.x
Hello Gorgeous,
Good morning...how was your night...i bet you were able to sleep well and not too tired....mine wasn't bad...i feel after i can chat with you last night before bed...would have been worse if didn't wait to have you online...but now am happy...i miss you more now honey and i hope we hear from the COL soon...i love you so much....i have to get some exercise now and when i get back am having the chopper coming to pick me this morning...just hope today would be alot better.....do have a lovely time at work and look forward to chat online later tonight...miss you more...i care...kisses and hug.
Chris.xx
Good morning Sweetheart,
How was your night...i bet you were able to sleep well...mine was good as well...dreamt about you and miss you so much...yeah i got your email honey...there is nothing wrong in what you have said ....and what i was just saying was a plan...we would work on them all when am back home...i believe
Removed won't be left out and honey i want you to no something for sure that nothing would make me deny my love for you...so have it in your mind that you are mine and am yours forever....love you so much...must get down with work now honey...do have a lovely day and look forward to read back from you...lots of love....kisses and hug.
Chris.xxx