Stella Jamal


[email protected]


IP 41.214.28.190 Senegal (Dakar)

Romance Scammer
NICE TO MEET YOU

I Am Stella,a tall good looking young girl,so lovely

and caring with good understanding.fair in complexion,care with good

sharing,honesty.I saw your profile in (

http://www.419baiter.com

) which interested me much

and i decided to contact you.I really want to have a good friendship with you

even if you have married we can be friend ok i have a reason of selecting you as my friend,pls if you wish to know more.Pls contact me

through this my id(

[email protected]

) We need to talk and

know ourself more and equally share pictures to each other.hope to hear

from you.

Bye with a warmly

huggs.

Stella (

[email protected]

)
I WILL LIKE TO KNOW MORE ABOUT YOU

Hello Dear,
I am more than happy in your urgent response. How are you today? l hope fine. Mine is not too good due to my suffering condition here in Dakar Senegal. My name is Miss Stella Jamal I am (23) years old, single and never married, 5ft 8 inches Tall, 55kg weight, black hair and brown eyes,l am from Liberia in West Africa and presently l am residing in a church Orphanage home here in Dakar Senegal as a result of the civil war that was fought in my country some years ago. I lost my both Parents during this deadly Political War that Damaged Thousands of innocent Souls in Liberia.My family was among the first target of the rebels because my Late father was Successful business man and also a politician supporting the Present Government then. l managed to make my way to a nearby country Senegal where l am seeking asylum and never pray or think to step my legs in that bloody country called Liberia.

I would like to know more about you.Your likes and dislikes,your hobbies and what you are doing presently. I will tell you more about myself in my next mail. Attached here is my picture.Hoping to hear from you soonest.

Yours Forever,
Stella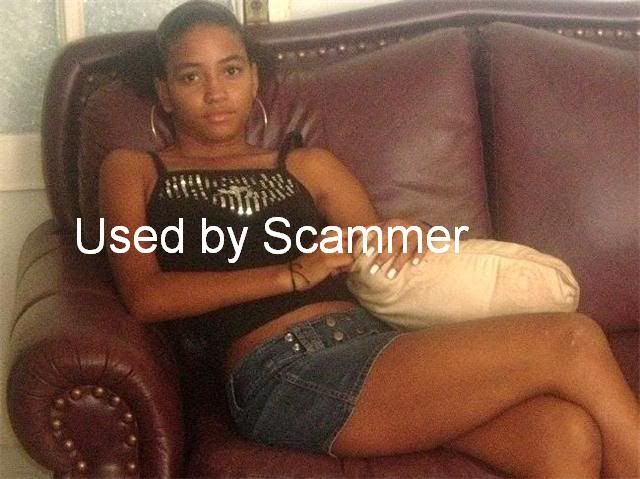 THIS IS MY FULL LIFE STORY WITH TRUST AND HONESTY

Dearest One,

Thanks for your mail,I will really like to have a good relationship with you, and i have a special reason why i decided to contact you.Kindly accept my apology for sending mail to you.I believe you are a highly respected personality, I am writing this mail with tears, sadness and pains.Live is very bitter to me.Everyday i wake up to ask my self when will this be over? When will my joy be restored and who will God use to give me a meaningful life i used to enjoy when my parents were alive.Oh! death has destroyed my future.I need someone to give me back what i have lost.I need someone to help.Though i am left with something to hold onto but i am helpless at the moment. I know this will come to you as a suprise since we haven't known or come across each other before, considering the fact that I came across your email through the web in search of trusted person who can assist me.

I am constrained to contact you because of the maltreatment which I received from my step mother. She planned to take away all my late father's treasury and properties from me since the unexpected death of my beloved Father. Meanwhile I wanted to travel to Europe, but she hide away my international passport and other valuable documents.

Luckily she did not discover where I kept my father's File which contained important documents. Now I am presently staying in the refugee camp in senegal.I don't have any relatives now whom i can go to as all my relatives ran away in the middle of the war. The only person i have now is Rev.Daniel Okuno who is the pastor of the (Living Spring Christian Church) here in the camp, he has been very nice to me since i came here but i am not living with him rather i live in the females hostel.

The Pastors Tel number is (+221-768-352-562) if you call, please tell him that you want to speak with me so that he will send for me in the hostel. Please at refugee here i don't have any right or privilege to any thing be it money or whatever because it is against the law of this country.I want to go back to my studies because i only attended my first year before the tragic incident that lead to the death of my parents took place. I am seeking for longterm relationship and investment assistance. My father of blessed memory deposited the sum of US$6.8 Million in a bank with my name as the next of kin.

I had contacted the Bank to clear the deposit but the Branch Manager told me that being a refugee, my status according to the law does not authorize me to carry out the transfer. However, he advised me to provide a trustee who will stand on my behalf. That is the major reason i am contacting you to be my foreign trustee.

Therefore, I decide to seek for your help in transferring the money into your bank account while I will relocate to your country and settle down with you. As soon as I receive your positive response showing your interest I will send you the contact of the bank immediately. In the light of the above, I shall appreciate an urgent message indicating your ability and willingness to handle this transaction sincerely. It is my intention to compensate you with 15% of the total money for your assitance and the balance shall be my investment in any profitable venture which you will recommend to me as i have no any idea about foreign investment. please get back to me through this my email box, if you agree to help me, all communications should be through this email address only for confidential purposes.Please my dear keep this to your self and do not disclose it to anyone for safety purpose.

Thanking you alot in anticipation of your quick response. I will send you more of my photo in my next email.

Yours Stella.
HOPE YOU WILL BE MY TRUE AND TRUSTED FRIEND

Hello dear,

how are you today? hope you are keeping fine over there in your country. my dear i thank you so much for your concern and care. darling i want to really know if i can trust you. Can i trust you? do you know why i am asking this question, because i am about to put my trust in you. If really you are going to help me out of this place with an honest heart, without betrayal i will introduce you to the bank as my foreign trustee so that you can then help me transfer the money into your account, after the transfer you send me money to get my papers and come over to you first before we then think of what next to do.Darling honestly i have a love for you and i want to be with you over there in your country immediately after the transfer.

You can call me through the reverend phone number. I have been here for three yrs now. But now have decided to find my way out of here because there is no prospect here.In here i got no future and since my dad left something i can lay claim. I was hoping that whenever i will be free i will go for it but freedom is still far from me so i have to seek for help. Thank God you are ready to help me. I promise you will never regret helping me.

I will like you to send me your full details such as

Full Name;

Age;

Country Home Address;

Phone number;

Occupation;

hope to read your mail soonest with the information.

Yours true friend,

Stella.
DARLING PLEASE CONTACT THE BANK FOR CONFIRMATION AND POSSIBLE TRANSFER

Dearest

I thank you once again this day. I prayed over you in this case before I decide to open up this to you.

I will love to see you face to face, but since that is impossible for now, I have to release this information to you in trust, and I pray that I will not regret this trust. You can call me on phone through the telephone of the Reverend Pastor +221-768-352-562

Please I have not informed anyone about this funds except you and I will like you to please keep it secret to other people because I prefer to live a cool and private life. Remember I trust you, that is why I am giving you all this information.

I have informed the management of Rabo Bank London about my plans to claim this money and they advised me to look for a trusted foreign partner who will stand on my behalf due to the fact that I want this funds to be transferred into a foreign account which I'll not be able to provide at the moment and they can not deal with me due to my current status as a refugee.

In this regard I will like you to contact Rabo Bank London immediately. Tell them that you are my foreign partner and that you want to know the possibilities of assisting me in transferring the US$6.800 000 (Six Million, Eight Hundred Thousand United States Dollars) deposited by my late father of which I am the next-of-kin to the account.

The contact information of Rabo Bank is as follows;

Rabobank London.

Thames Court

1 Queenhithe

London EC4V 3RL

England.

International Dialing

Tel: +44 87 0471 6095

Contact Personnel: Mr. Leed Hensen, Director of Remittance.

Tel: +44 70 3184 1384

Email:(

[email protected]

)

(

[email protected]

)

Name Of Depositor: Moses Jamal

Amount Deposited: $6.8Million US Dollars

Next-of-Kin: Stella. Jamal

Account Number: 43483002

Awaiting to hear from you soonest!.

God bless.

Stella.
WELCOME TO RABO BANK LONDON.

WELCOME TO RABO BANK LONDON.

RABO BANK LONDON

Thames Court

1 Queenhithe

London

EC4V 3RL

Telephone;

+44 87 047 16095

26/June/2010

RABO BANK LONDON. (R.B.L)

For Your Attention Mr XXXXX XXXXX .

I have been directed by the director of Foreign Operation/Wire Transfer to write you in respect to the mail we received with regards to the deposit of our late customer Dr Moses Jamal in our bank.

We have been told about you by the young lady Miss Stella Jamal that she wishes you to be her trustee/representative for the claim of her late father's deposit with our bank.

Late Dr Moses Jamal is our late customer with substantial amount (US$6,800,000.00) of deposit with us. Hence you have been really appointed as a trustee to represent the next of Kin Miss Stella Jamal. However before our bank will transact any business concerning the transfer of the fund with you we will like you to send the followings:

1.

A power of attorney and affidavit of oath

permitting you to claim and transfer the funds to your bank account on her behalf. This document must be endorsed by a Senegalese resident Attorney.

2. The death certificate of late Dr Moses Jamal (Her deceased father) confirming the death.

Note that the above are compulsory, and are needed to protect our interest, yours and the next of kin after the claims. These shall also ensure that a smooth, quick and successful transfer of the fund is made.

We promise to give our customers the best of our services. Should you have any question(s), please contact our foreign transfer manager Mr.Leed Hansen on telephone number +44 70 3184 1384 for more directives/clarifications.

Yours Faithfully,

Mrs. Jane Lewis.

(For Accounts Dept/Transfer Dept.).