This has been forwarded to me by a colleage for posting here.
The Victim of a previous scam was advised by the 'General Secretary of the United Nations' to contact "Dr. Henrry Peterson" (interesting spelling of the name) - so he sent:
To:

[email protected]

Date: Tuesday, September 23, 2008, 1:38 PM

Good day Dr. Peterson I received an email requesting that I contact you in regards to the UN GENERAL SECRETARY, in reference to individuals that have been scammed. it did not say what information to send you regarding the Bank Draft. the following is my information. Stay Blessed

<Personal>
The reply from the scammer, Dr. Henrry, offers alternative courier services at different rates - payable ONLY by Money Gram.
From: Dr Henrry Peterson <drhenrrypeterson>

To: Mr. Scam Victim

Sent: Wednesday, October 1, 2008 3:00:36 AM

Subject: you are to make your chioce and send us the fee

ATTN: SCAM VICTIM

Dear Beneficiary,

Your personal detail was received and we are pleased to inform you that your payment compensation file have gain payment guarantee order document from United Nation audit and further approval of your Certified International Bank Draft.

Be informed that the specimen copy of your Certified International Bank Draft have been attached for your confirmation and we have to duly gain insurance coverage on your Certified International Bank Draft before shipment inquires and proceedings.

Just in case you prefer your Bank Draft to be deposited directly into your Bank account in United States, you will need to send a cash transfer fees of USD$1450 as your account is an International account and outside this country, but if you still refer the below Courier services so kindly check for the cost of the courier service with Insurance Coverage so let us know your choice.

Below is the various Courier Companies with the cost of their delivery which you wants your Bank Draft to be deliver to you from here to your country including full Insurance charges.

You are requested to send the necessary charges to enable us handover your Bank Draft immediately to the Courier service of your choice and then you cash it from any bank in your country. if that is your choice.

These are the preferred channels of delivering your parcel to you which we specified and have confirmed it okay, these express diplomatic courier service is a diplomatic courier company that have a diplomatic license to deliver any Parcel/Consignment to any country without problem and delay and the authority of the united nation board has approved any of the listed courier company to handle the delivery, so dear customers, you are to make your choice ASAP:

http://www.dhl.co.uk/home.html

Mailing and Insurance coverage ..

US$ 315.00 1 day to Deliver

FedEx Corporation,

FEDEX

http://fedex.com/gb/

Mailing and Insurance coverage .. US$ 340.00 1 day to Deliver

UPS

Mailing and Insurance coverage ..

US$ 357.00 1 day to Deliver

It is pertinent to note that this payment is not negotiable so select any of your affordable fee and send it through Money gram Transfer with this name stated below.

RECEIVER NAME : MR. UGBANAGU ORAEGBUNAM

DESTINATION : PORTO NOVO

COUNTRY : BENIN REPUBLIC

As soon as you send the money, send the Refrence number Eight digits number and the senders name to enable us dispatch your package immediately and forward the tracking number to you to enable you track your package on-line, That is if you have chosen for us to send it through courier service, but if you have chosen that the draft should be deposited into your nominated bank account then you will send the necessary fees (Transfer Fees) as stated above and your choice bank account details.

Find the attached specimen copy of your approved International Bank Draft .

Looking forward hearing from you and also reconfirm your mailing information or bank information whichever one you choose.

Yours in Faithfully,

DR.HENRRY PETERSON

+229 98 33 73 27
And the Bank Draft (note the bottom line concerning watermarks etc - hilarious as the document has been so badly interfered with)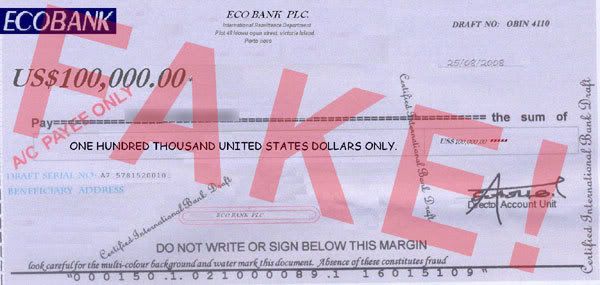 As the Victim did not respond, this was sent to him:
From: Dr Henrry Peterson <drhenrrypeterson>
To: Scam Victim
Sent: Monday, September 29, 2008 3:34:36 AM
Subject: why i did not hear from you?



Good 'Scam Victim'

I send you an emeil after i receive your email but up till now i did not hear from you dose it me you did not receive my mail? or you are not intrested to receive your draft? pls if you are not intrested pls kindly reply my mail with your anwser ok.

Thanks and have a nice day

Dr Henrruy
Seems as if he doesn't know how to spell his own name.