THE ONLY WAY TO PROTECT YOURSELF FROM THIS SCAM IS TO NOT PAY ANYTHING UNTIL YOU HAVE VIEWED AND INSPECTED THE VEHICLE YOURSELF
Latest example
http://www.autotrader.co.uk/used-cars/audi/q5/used-audi-q5-2-0-tdi-quattro-s-line-5dr-s-tronic-wood-green-fpa-201409137376152?logcode=p
13 Sep & 14 Sep & 15 Sep
£7,800 2011 Audi Q5 2.0 TDI Quattro S Line 5dr S Tronic - Wood Green - (07823) 857010 - 24500 miles -

Reg KP12JVT
How it appeared in a previous fraudulent advert
http://www.autotrader.co.uk/used-cars/audi/q5/used-audi-q5-2-0-tdi-quattro-s-line-5dr-s-tronic-birmingham-fpa-201406114939501?logcode=p
11 June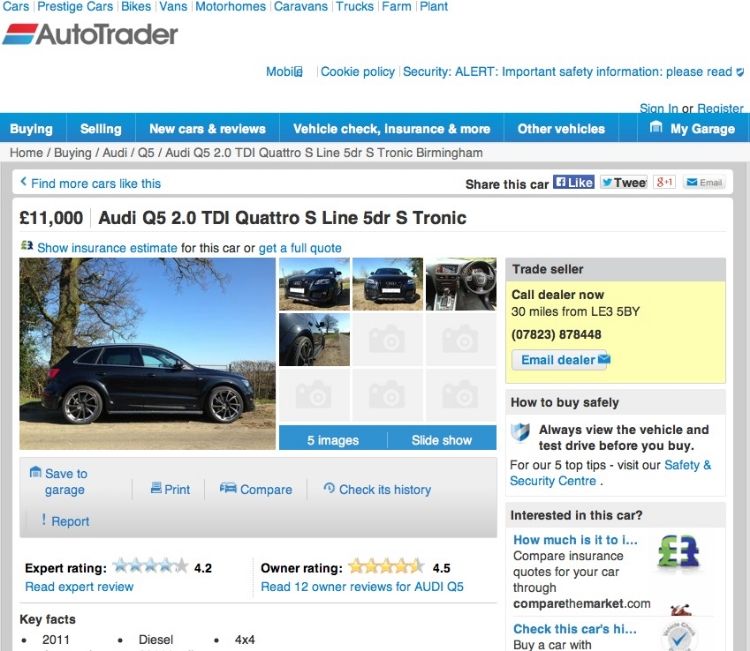 £11,000 2011 Audi Q5 2.0 TDI Quattro S Line 5dr S Tronic - Birmingham - (07823) 878448 - 23000 miles
Don't touch any car for sale where the registration details have been photo hacked out. In this case the scammer has falsified the date of registration but this hasn't prevented me finding from where the original photos have been stolen.
The original photos come from here
http://webcache.googleusercontent.com/search?q=cache:PBCP5Bql6wMJ:uk.flogr.com/item/audi/audi-abt-q5-tdi-quattro-s-line-special-edition-ex-demo/26896958+&cd=2&hl=en&ct=clnk&gl=uk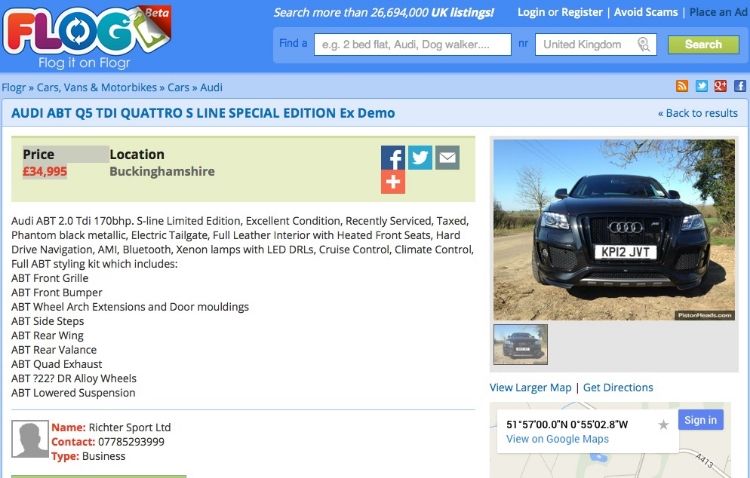 AUDI ABT Q5 TDI QUATTRO S LINE SPECIAL EDITION Ex Demo - Location
Buckinghamshire - Reg KP12JVT - Price £34,995
Previous appearances
http://www.autotrader.co.uk/used-cars/audi/q5/used-audi-q5-2-0-tdi-quattro-s-line-5dr-s-tronic-nottingham-fpa-201409127353284?logcode=p
12 Sep
£7,800 2011 Audi Q5 2.0 TDI Quattro S Line 5dr S Tronic - Nottingham - (07823) 857389 - 24500 miles -

Reg KP12JVT
Last edited by
TerranceBoyce
on Mon Sep 15, 2014 4:26 am, edited 4 times in total.
CAR ADVERTS -

If a car seller mentions escrow - he's scamming you

Never ever for any reason pay anything until you have seen and inspected the vehicle