Email addresses associated with fraudulent adverts appearing on Autotrader UK
http://www.autotrader.co.uk/classified/advert/201408026304216/sort/priceasc/usedcars/dealer/697648/page/2/postcode/eh218ne/advert-type/dealer-stock?logcode=dsp
2 Aug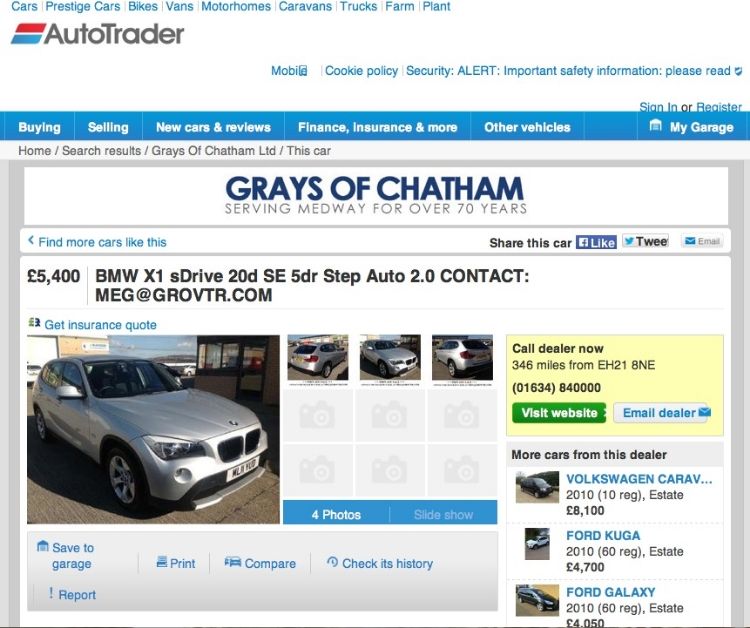 From: -
[email protected]
Hello,

I`m still selling the 2011 BMW X1 20d SE S-DRIVE AUTO which comes with new MOT and Road Tax, HPI report, low mileage only 41k miles with full service history, never involved in any type of accident, excellent condition, looks and drives great.
I am now based in Sweden as my wife was recently promoted with her work and we decide to move here during her work contract . We brought the car with us, here in Sweden, but my wife received a company car so we don't need a right handed car here, besides there are a lot of things which have priority now, so, this car has to go. As you probably noticed the price of £5400 is rather low but only because we are looking for a quick sale.

Thank you,
Steven and Jane.
Hi,

I attached the pictures of the car including the HPI check so you can see that has no problem at all. As I told you in my previous email we are now located in Sweden and the car is here as well. Due to the fact that I am very busy with my work and I don't stay too much at home, we left the vehicle to a shipping company so it can be delivered to the new owner. If you are interested, I need the post code of your delivery address so I can calculate the shipping cost ( I agree to support the transportation charges 50-50 if that is suitable for you).

Thank you and let me know,
Steven and Jane.
Hi again,

The shipping fees will be around £500 but as I told you I agree to cover half of the amount so the total price you will need to pay including the delivery to your address is £5650.

Thank you and let me know if you wish to proceed further.
Steven
Hi again Ollie,

Considering that I am located outside UK and we can not deal in person, I suggest to use the security provided by Rea-Transport.com, because they have a great exchange program. To find out more go to their website

http://www.Rea-Transport.com

and read the material, it's a 5 steps process and it's all described in there.

The transaction will be fully under Rea-Transport.com surveillance, giving us both security and insurance that nothing will go wrong. This way you will actually pay for the vehicle after reception and inspection, considering that the funds will be held and released to me only after you accept and confirm the delivery. Do you think a 7 days inspection period will be enough? Within this time frame you have to decide if you purchase it or not. If you decide against the purchase you will be fully refunded without any added charges to your account. The vehicle will be returned to me if you reject it upon inspection, but I honestly doubt this will happen.

Thank you and let me know,

Steven
rea-transport.com
- fraudulent escrow/shipping site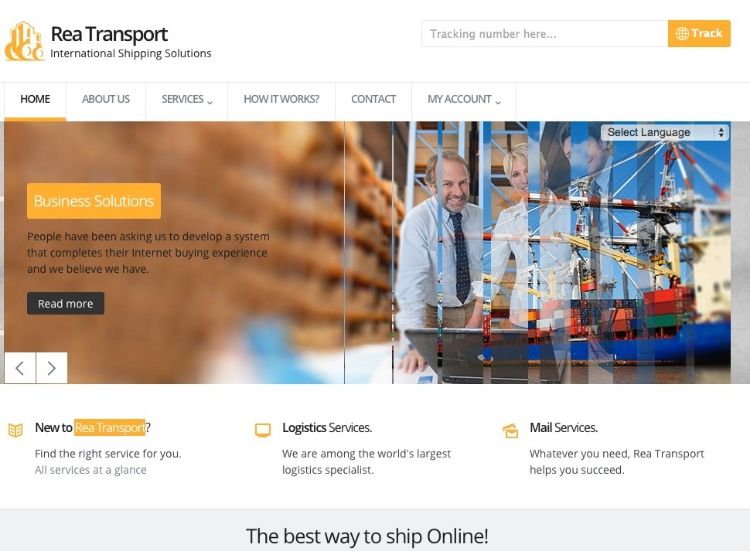 Hi again,

The vehicle will be delivered at your home address. Standard delivery usually takes 5 business days. You will receive the vehicle along with the V5 document signed by me, bill of sale and all the original books, full service records and 2 keys. Regarding the money side of things, you will pay to Rea-Transport.com the required amount, and they will secure it until you get the vehicle. You will be given a 7 days inspection period during which you can decide whether you keep it or not. If you are satisfied with it, you will confirm that to Rea-Transport.com so they can release the funds to me.

In order to move on please register on

http://www.Rea-Transport.com

. As soon as we will both be registered members I will post the transaction mentioning the vehicle details, the price etc on Rea-Transport.com website and confirm you as the buyer.

As soon you become a member please let me know so I can start the transaction with Rea-Transport.com and get things in motion.

Thank you,

Steven
Glad to hear that Ollie, I will start the transaction with Rea-Transport.com today and once is done you will receive an invoice from them where you will find shipping information and payment instructions.

I will get back to you once everything is sorted from my side.
Steven and Jane
Hi again,

Just to let you know that everything is in order from my side, I started the transaction with Rea-Transport.com and you should have a notice about it. Mine arrived in the Spam folder so you might want to check there too. Our transaction number is REXXXXXXXXXXXUK.
From: -
[email protected]
Rea Transport - Invoice

Rea Transport Order Details:
2011 BMW X1 20d SE S-DRIVE GBP 5,650.00
Tracking number: REXXXXXXXXXXXUK



* All the transaction, payment and personal information is considered confidential and will not be released under any circumstances.

* Our main and constant priority is the safety of our customers.

Rea Transport member Steven Mcleman as the Seller, initiated a new transaction through Rea Transport program and registered you, Oliver Xxxxxxxx, as the Buyer.

We verified all the details of this transaction and we concluded that they are accurate and the transaction is approved. Please follow our instructions to complete the transaction safely. Your Rea Transport purchase is protected for up to GBP 5,650.00.

How to send the money to Rea Transport

Payment must be submitted through Bank to Bank wire transfer to our designated Account.

To view the payment details please check your delivery using the tracking number and click on the Awaiting bank wire payment status to reveal the payment details.

Please find attached the following:
- Rea Transport_Shipping-BILL.pdf
- Rea Transport_Shipping-CONTRACT.pdf


Protection and refund
The item is insured for damage during the transportation, inspection process and prior to the physical sale. You have 7 days to inspect the item and the option to use an independent Inspection Authority to make sure that the item is as described.
1. If you decide to keep the item, we will forward the payment to the seller.
2. In case the buyer will not receive the product in time or as was described in the listing, the buyer will get a full refund from Rea Transport by wire transfer.During the Buyer Inspection Period, Buyer may reject one or more items for any reason .Upon such rejection, Rea Transport will send both, Buyer and Seller, an email stating Buyer's decision to reject and return the goods; and Buyer agrees to promptly ship good to Seller within ten (10) calendar days at seller expense, a full refund is immediately sent to the buyer.
For safety reasons the payment details will be dealt with the utmost security and will not be handed to any third parties. Rea Transport will be in full control of the funds as soon as it reaches the regional account. Once the funds have been sent to our regional account, no one but the Purchaser will have access to it.
In order to properly validate your payment and avoid transfer related issues, please forward us a copy of the transfer receipt to the fax number +46(0)8446 83811. We hereby take full responsibility for the security of the transfer. please allow us 24 hours to verify payment. Sending the payment by any other method of payment will void this transaction and your right to refund.


Rea Transport

Intellectual and other property rights to the information contained are held by Rea Transport with all rights reserved © 2014.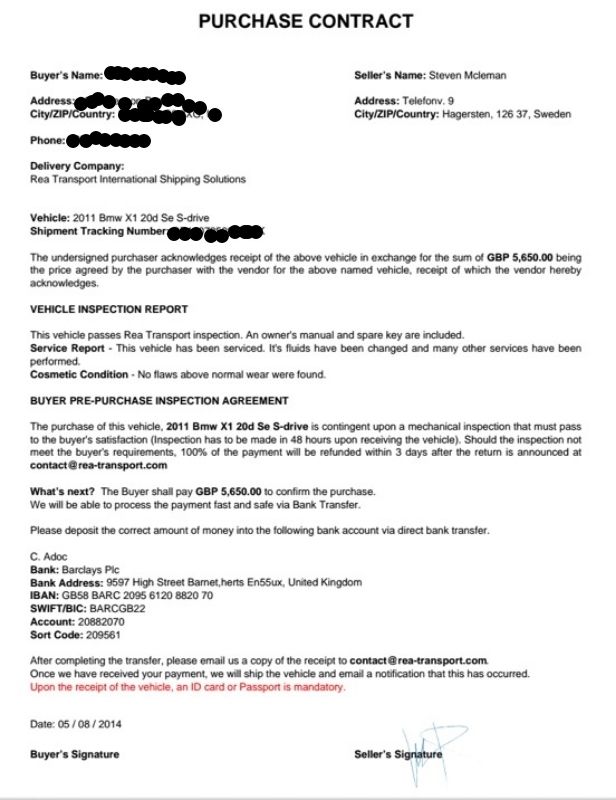 The money mule account details quoted on the fraudulent document are
C.Adoc
Bank: Barclays Plc
Bank Address: 9597 Barnet High St Barnet herts En55ux United Kingdom
IBAN: GB58BARC 2095 6120 8820 70
SWIFT/BIC: BARCGB22
Account: 20882070
Sort Code: 209561
.. and they have been reported to the authorities.
Please let me know when you will be able to secure the payment so I can ship out the car for inspection. Please keep me updated, I want to have transport ready by the time you've done your part so there's no delay on my end. Looking forward to hearing from you.

Steven and Jane
Hi Ollie,
I printed the confirmation from you and went to the delivery company with it on my way home. The delivery company was already aware of your payment because it will be refunded.
They have very tight terms in order to avoid fraud. So the payment was refunded to you and the payment details where changed.
You will need to send the payment again once you will receive the refund and this time don't forget to send them the scanned receipt along with the signed contract which they have sent you.

Please keep me updated.

Kind Regards,
Steven and Jane
Hi Ollie,
It probably takes longer because we got caught up in the weekend.

I will go myself to the delivery company on Monday and check everything out. Mean time let me know if the refund has arrived.

Kind Regards,
Steven
CAR ADVERTS -

If a car seller mentions escrow - he's scamming you

Never ever for any reason pay anything until you have seen and inspected the vehicle