http://www.autotrader.co.uk/classified/advert/201408116525078/sort/default/usedcars/dealer/20525/page/2/advert-type/dealer-stock?logcode=dsp
11 Aug
Hacked dealer page
From: -
[email protected]
Frank,
Are you still interested in my car? I still have it available for sale if you still want to purchase it.
This 2001 Lotus Elise S2 is in immaculate condition in and out as shown in the pictures attached to this email.
Mileage: 54,680 miles. Engine: 1.8 Petrol. MOT and TAX until 09/2014. Full service history available.
No engine problems, garage kept and it has all the needed documents with my name on them.
I'm asking £4550 for a fast sale. The car is currently located in Dundee, Scotland because I just finished the divorce with my wife and I have moved here due to my work commitments. I will sell the car only using eBay's services because they offer the highest rate of safety and reliability during online transactions - this way you'll be able to inspect the car before paying me and I'll be sure that I have a genuine buyer that isn't going to mess me around. Where are you located? Please email me as soon as you see this message because I have few other people interested in this car.

Thank you,
Joe
I am sorry for the late reply but I was busy with my work commitments and I couldn't check my email until now. I still have the car available for sale and it's yours to buy if you still want it. I'm working on an oil rig so pick up is not possible but I can have the car delivered to you in Nottingham by a delivery company for £100. Since view or pick up is not an option, the sale will be completed using eBay's services as I have suggested in my previous email.
I have briefly described the transaction's steps below:

- you give me your full name and address for delivery to start the transaction using eBay.
- they send you ALL the info regarding the payment, delivery, buyer protection and refund policy.
- you send the payment to eBay and they inform me that the payment was received.
- I deliver the car.
- you receive the car and inform eBay about the acceptance.
- eBay releases the payment to me.

As you've noticed, you'll receive the car BEFORE any money is released to me. ONLY after you've confirmed with eBay that the car is as described and you have agreed to keep it, they'll release the payment to me.
If it isn't in immaculate condition like I said or something is not ok with it or for some other reason you decide not to keep the car, you can reject it and I'll take it back on MY EXPENSE and eBay will fully refund you.

In order to go ahead with the sale I need your full name and address for delivery. Once the transaction is registered, eBay will send you ALL the info regarding payment and delivery.

Thank you,
Joe
Frank,
You will have the car in your custody in max 48 hours from the time the payment has been deposited/confirmed/cleared.
You should have the sale details (payment invoice + buyer protection email) from eBay in the next hours. Please also check your Junk/Bulk/Spam folder of your email because the eBay info contains very secured info and your email server might reject it. Drop me an email when you have news from eBay and also please deposit the payment today (Wednesday) because I do have other people interested to buy this car so please don't mess me around. I hope you're serious and you will confirm the payment today (Wednesday) otherwise I will cancel the transaction with you and accept the payment from the next buyer.
Thank you for understanding.
From: -
[email protected]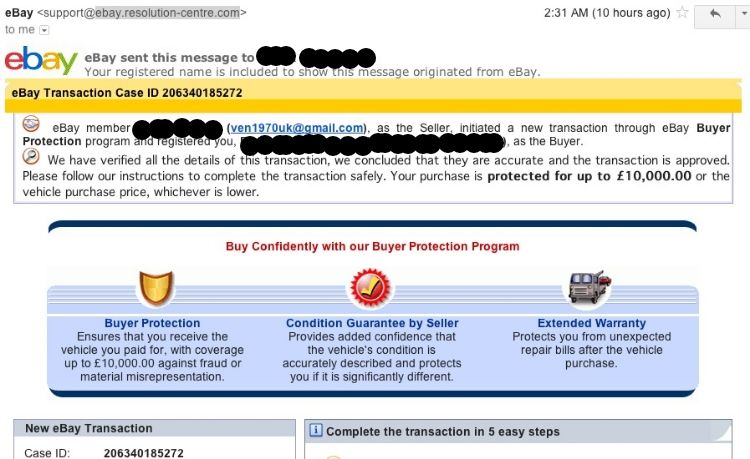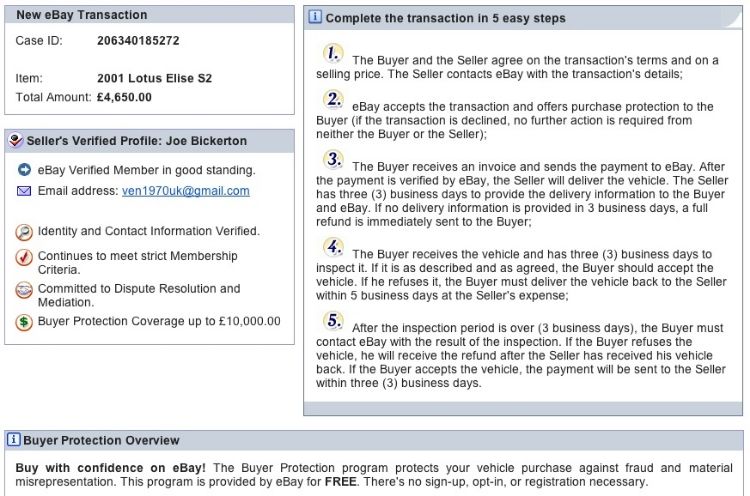 From: -
[email protected]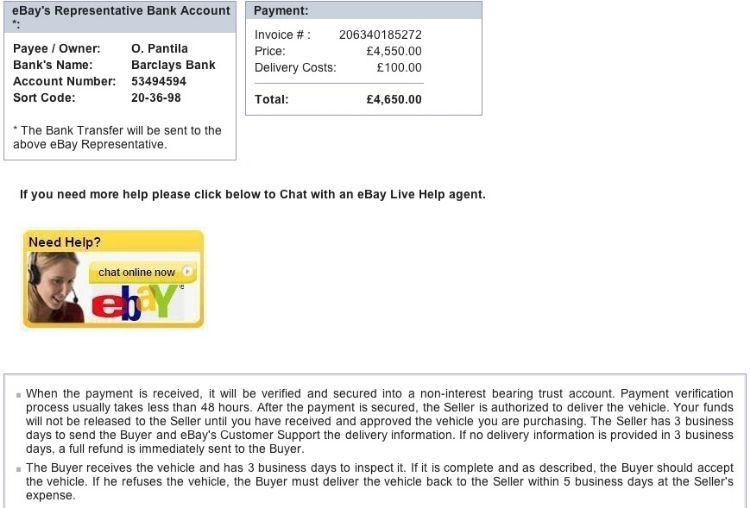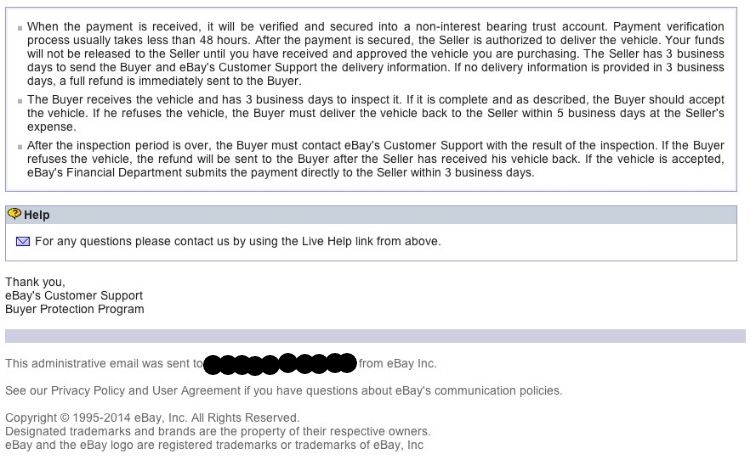 Money mule bank account
Payee / Owner: O. Pantila
Bank's Name: Barclays Bank
Account Number: 53494594
Sort Code: 20-36-98
(Reported)
Frank,
Have you received the sale details sent by eBay regarding the purchase of my car? Let me know...
I'll be waiting to hear from you with further news...
Thank you,
Joe
CAR ADVERTS -

If a car seller mentions escrow - he's scamming you

Never ever for any reason pay anything until you have seen and inspected the vehicle