ORIGINAL ADVERT
http://www.autotrader.co.uk/classified/advert/201408186699800/sort/default/usedcars/dealer/2106/page/5/advert-type/dealer-stock?logcode=dsp
18 Aug
£9,999 2012 BMW X3 xDrive20d SE 5dr Step Auto 2.0 -

Reg SL62SDZ
+++ DON`T CALL US PRIVATE SALE +++ PLEASE CONTACT THE SELLER DIRECTLY AT:

[email protected]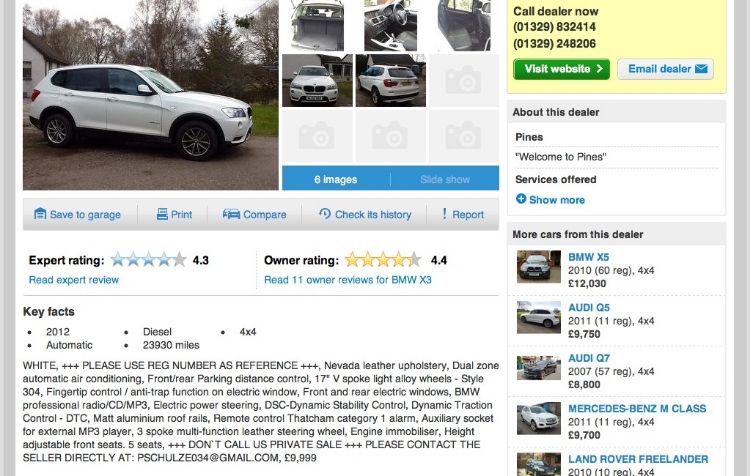 From: -
[email protected]
Hi there,

First of all I want to thank you for questions about BMW X3 xDrive20d SE 5dr Step Auto 2.0

The car is in perfect condition.
The total price is £9990 including delivery to your address. Price reduced for a quick sale.

This is my first time selling a car over the Internet and I think the best way is to use a third party company that protects buyers and sellers.
They inspect the car for damages and its mechanical condition before starting the transaction. They will also give you a 5 days inspection period (this means that after you receive the car and papers, you have 5 days to use it and if something goes wrong or if the car is not as described by me, you will get your money back).
I have all the papers signed and I'm ready to make a deal as soon as possible. The delivery will take no more than 2-3 days and the car will be delivered at your home address.
So, if you really want it, you will be able to have it in no time!
Because of the nature of my work, I am normally travelling and not constantly present in the UK, and this is the reason why I prefer to use Third Party Company.

If you are interested in buying it, then I will wait for your answer to tell you how Escrow works.

Thank you,
How does escrow work?

1. Buyer and Seller Agree to Terms.
Both parties agree to terms of the transaction, which includes a description of the merchandise, sale price, number of days for the Buyer's inspection, and any shipping related information.

2. Buyer Pays Escrow.
The Buyer submits an available payment option. Escrow verifies the payment. Processing time varies by payment method.

3. Seller Ships Merchandise.
Upon payment verification, the Seller is authorized to ship merchandise and submit tracking information. Escrow verifies that the Buyer has received the shipment.

4. Buyer Accepts the Merchandise.
The Buyer has a set number of days for an inspection and the option to accept or reject the merchandise.

5. Escrow Pays the Seller.
Escrow pays the Seller by the method selected by the Seller. The transaction is complete.

You will send the funds to the escrow company and they will keep the money until you receive the vehicle and test it. In this way both buyer and seller are 100% covered during the steps of this transaction. They will hold and insure your money until receipt of the car in good condition. That is how their service works.

If you are interested then please let me know so we can start the transaction through them. Please email me your address and phone number.

Thank you,
Hi again,

All you have to do now is to register an account on their website and send me the email address you registered with, and then I will start the transaction. Once the transaction is all set, they will guide you on how to make the secure payment. They take care of the title and money transfer in the safest way. If you decide to keep it (and I am sure you will), then you have to visit the website and accept the merchandise and then I get paid.

If you are ready please register at:

http://escrowimperial.co.uk/

Thank you,
http://escrowimperial.co.uk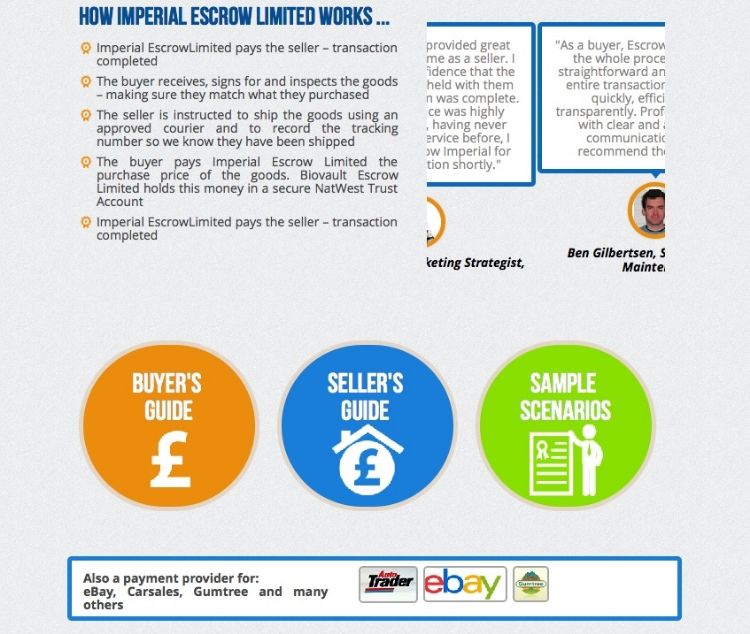 Domain name:

escrowimperial.co.uk

Registrant:

Peter Shulze

Registrant type:

UK Individual

Registrant's address:

11 Newnton Grove

Malmesbury

WILTSHIRE

SN16 0DS

United Kingdom

Data validation:

Registrant contact details validated by Nominet on 18-Aug-2014

Registrar:

Hostway Limited [Tag = HOSTWAY]

URL:

http://www.hostway.co.uk

Relevant dates:

Registered on: 18-Aug-2014

Expiry date: 18-Aug-2016

Last updated: 18-Aug-2014

Registration status:

Registered until expiry date.

Name servers:

ns0.securepod.com

ns1.securepod.com
From: -
[email protected]
aldersgate-escrow.com

Okay great, please email me your shipping address and mobile phone number.
I will start the transaction but before this i need to know if you are able to make the payment now.
Cheers
Ronald can i have your mobile phone number and please tell me if you are able to close the transaction today. Cheers
Okay great, i will start the transaction now. Cheers
Did you got the payment invoice ?
From: -
[email protected]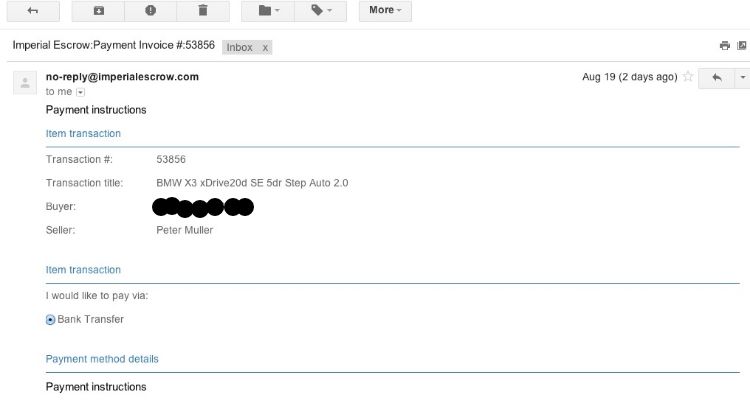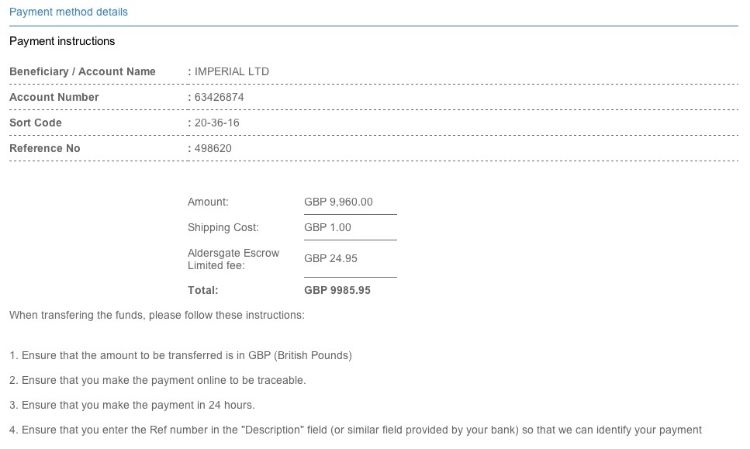 Bank account (I presume that the company name supplied is bogus)
Account Number : 63426874
Sort Code : 20-36-16
Reference No : 498620
Okay ,
Did you made the payment ? Cheers
I think the easy way is to pay by bank transfer from your online banking. Cheers
CAR ADVERTS -

If a car seller mentions escrow - he's scamming you

Never ever for any reason pay anything until you have seen and inspected the vehicle