[url]http//www.autotrader.co.uk/used-cars/bmw/1-series/used-bmw-1-series-116i-2-0-sport-3dr-dumbarton-fpa-201408226788834?logcode=p[/url]
£1940 2009 BMW 1 SERIES 116i [2.0] Sport 3 dr - 39283 miles -

Reg OY59YLB
It is a snapshot of the page as it appeared on 22 Aug 2014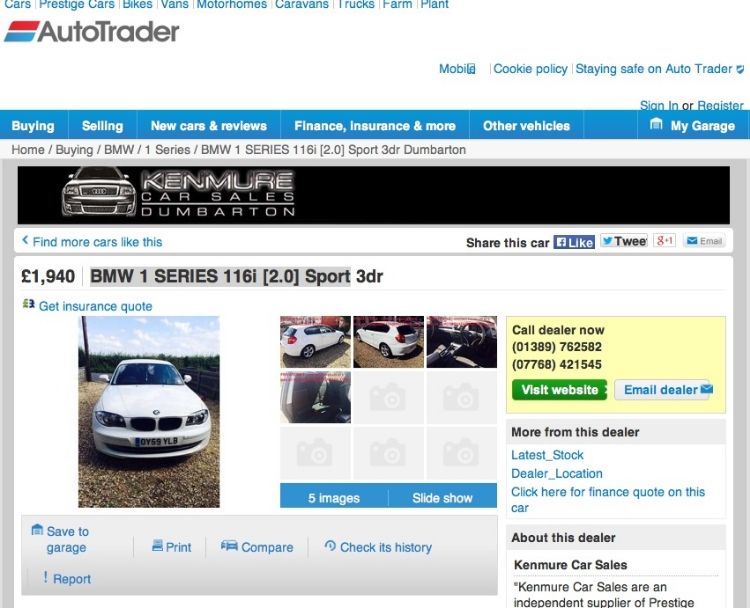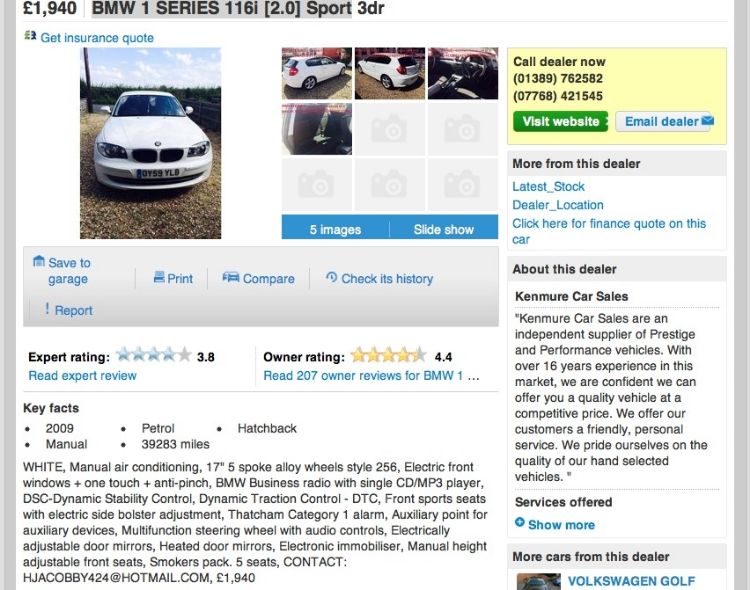 From: -
[email protected]
Hi!

I still got the 2009 Bmw 116i Sport for sale at the price of £ 1940. We live in the Northern part of Scotland, in a beautiful sea-side town called Durness (the car is here as well). Also we sold our properties and bought a nice farm here in Durness. We are a couple of pensioners and don't use the car so often. The car is in excellent condition, garage kept, accident free and low mileage. If you are really interested we will be happy to meet you in person in a suitable place for both. You can take the car for a test-drive and any kind of inspection are welcomed.
Please let me know where are you based because I am sure that we can find a nice city to arrange a meeting.

The main reason for this sacrifice is that I have to pay urgently the notice of a final deposit for a new boat or I will lose £11500.

Thank you and let me know,

Holloway Jacob
The fraudster then passes me off to another email account, either because his original one has been shut down because criminal activity has been detected or he is passing me off/delegating me to another gang member. It also protects his original email box when the scam is reported as it may not be directly connected with the fraud.
From: -
[email protected]
Hi again!

Unfortunately the password of my account is not working anymore and we can continue to communicate here because this is my son's e-mail address. As I told you the car is in a perfect condition, never got any kind of problems with it and it has only 39283 miles so I don't think you will find anything wrong with it. It comes with Road tax until January 2015, the MOT is clear (January 2015), HPI clear and I have all the original papers including full service history.
If you are interested in a test-drive and a full inspection I am ready to meet you in a suitable place for both, just let me know where are you based so I can figure out where will be the best place to meet.

Many thanks in advance,

P.S. We got a very bad reception in this part of Durness so I will appreciate if we can continue our conversation through email.
(07551245530)
Hello

The furthest we can travel is Newcastle maybe on a Friday or Saturday, let me know if this suits you so I can book a hotel there
Hello again

Saturday (30th August) is perfect for my schedule so I will book a hotel in Newcastle and let you know the details tomorrow.

Thank you!
Normally the fraudster will offer a 'money mule' bank account to receive a victim's stolen money but, the risk is that it will get shut down, and they are useful for many types of fraud/crime, so criminals would always prefer to use Western Union if they can as there is no risk to them and, they tend to use unscrupulous agents who will pay them the funds without the full security details. This is why they make the following suggestion. Western Union should never be used in this sort of transaction and the scammer only suggests it because he knows that he can steal your money using the information you provide.
Hi!

I just booked a hotel in Newcastle at Premier Inn (New Bridge Street West, Newcastle upon Tyne, NE1 8BS). We are arriving there on Friday evening and we will have our meeting on Saturday (30th August).
Before we come to Newcastle, we want to be sure that you will be there and we won't drive for nothing.. There is a risk which we want to avoid so I had a chat with my wife and we have a proposal for you. If you accept our proposal then we can come at the meeting as we agreed, I will reserve the car for you and we will cancel any other appointment with other potential customers.
My wife will go tomorrow to a local Western Union, she will transfer £ 1940 on my name and I will pick up my money in Newcastle.
The same thing we want from you. A relative or a family member of yours must go at any Western Union branch and transfer £ 1940 on your name. This is a service where you don't need a bank account because it's a transfer used mostly by relatives or family members. When your transfer is done, I want to see your receipt which proves that you are the receiver of the money.
Please understand that I am not asking for an payment in advance because the only one who can pick up the money in Newcastle is you. We will go together at any Western Union in Newcastle to withdraw our money so we can close this deal safely.
This transfer will cost you about £ 40 and as soon as we meet I will pay you back this money. It doesn't matter if you decide to buy the car or not.

We hope you understand our message and also we don't want to seem rude but it's a long way for a blind date.

You already know that we have a very bad reception of the signal in the area where we live but I can call you after we will leave from Durness (07551245530).

Thank you!
Hi again!

I hope that you are a serious person because we are making this sacrifice once in a lifetime and our transfer is done so please let me know when everything is in order to swap the receipt in the same day.
Hello!

I am sorry but I think that you don't understand my proposal. This is an exchange insurance for me and for you that our meeting will take place and we can leave relaxed our towns because we will be 100% sure that the other one will be there as we agreed!
As I told you, a relative or good friend of yours must go to any Western Union and ask to make a personal transfer on your name. So you will be the beneficiary of the money, not me! You will appear on the transfer paper as Receiver of the money and your relative or your friend will be the Sender. We will take our money back when we meet, we will go together to any Western Union branch in Newcastle.
This is my only condition and without this I will not come to Newcastle for this meeting, I am sorry. Don't misunderstand me but someone made me drive 400 miles for nothing because he didn't had the necessary amount to buy my car. I believe a good deal is based of 100% safety for both sides and with these transfers I want to add a plus of security for me and for you as well that we can close this deal safely.
CAR ADVERTS -

If a car seller mentions escrow - he's scamming you

Never ever for any reason pay anything until you have seen and inspected the vehicle