THE ONLY WAY TO PROTECT YOURSELF FROM THIS SCAM IS TO NOT PAY ANYTHING UNTIL YOU HAVE VIEWED AND INSPECTED THE VEHICLE YOURSELF
Latest appearance
http://www.autotrader.co.uk/used-cars/audi/a5/used-audi-a5-3-0-tdi-245-quattro-s-line-2dr-s-tronic-sheffield-fpa-201409247670973?logcode=p
24 Sep
£5,395 2011 Audi A5 3.0 TDI 245 Quattro S Line 2dr S Tronic - (0114) 2401090 - 28590 miles -

Reg HG61NFL
How the advert appeared in an earlier post
http://www.autotrader.co.uk/used-cars/audi/a5/used-audi-a5-2-0-tdi-177-black-edition-2dr-multitronic-nav-leicester-fpa-201409227606579?logcode=p
22 Sep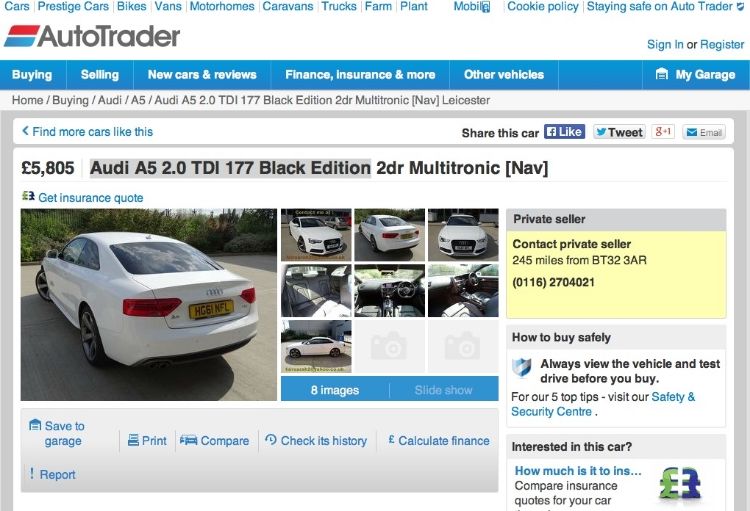 £5,805 2011 Audi A5 2.0 TDI 177 Black Edition 2dr Multitronic [Nav] - Leicester - (0116) 2704021 - 28200 miles -

Reg HG61NFL
Previous appearances
http://www.autotrader.co.uk/used-cars/audi/a5/used-audi-a5-2-0-tdi-quattro-s-line-2dr-birmingham-fpa-201409087234832?logcode=p
8 Sep
£5,860 2011 Audi A5 2.0 TDI Quattro S Line 2dr - Birmingham - (0121) 554 4666 - 18115 miles -

Reg HG61NFL
http://www.ukvehicle.com/HG61NFL/
HG61NFL is a White 2011 Audi A5 Tdi Black Edition, first registered in Bournemouth between September 2011 and February 2012

We have HG61NFL history with 5 previous for sale listings in our database with the most recent event on August 27, 2014

HG61NFL Audi A5 Tdi Black Edition for sale on Wed 27th of August 2014 for £24,750 in Redbridge. The vehicle reportedly had 28000 miles on the clock. AUDI A5 2.0 TDI 177 BLACK EDITION COUPE 2011/61. Phone:07908 777321 IBIS White, **NEW SHAPE** S Line Body Styling, Sport Suspension …….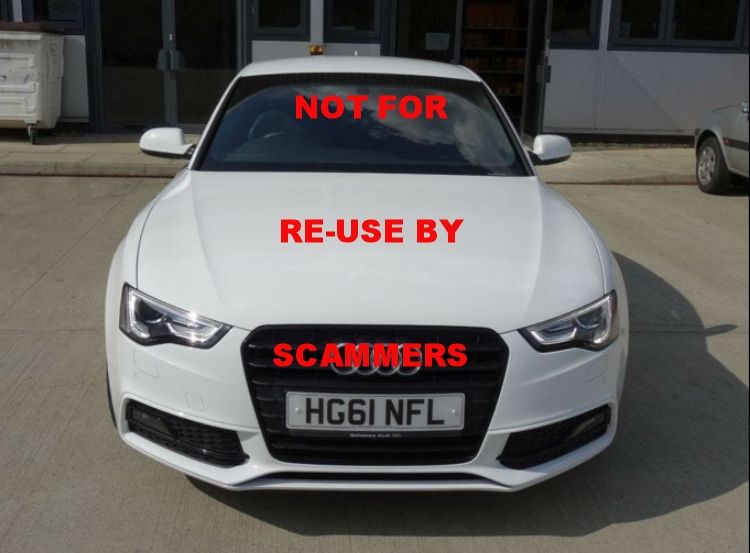 Last edited by
TerranceBoyce
on Wed Sep 24, 2014 6:22 pm, edited 3 times in total.
CAR ADVERTS -

If a car seller mentions escrow - he's scamming you

Never ever for any reason pay anything until you have seen and inspected the vehicle