NASTYA POTEHINA
Liar and romance scammer
Aka Nastya Mit
User names used sweetnastya28 nastyamilashka missnastya
Claims 27 or 28 or 30 years old, dob 5th December 1978 or 6th July 1981, single with no children, "doctor" living in Kazan, Tatarstan Republic, or Vladivostok, Region of Primorsky, Russia or Cape Town, South Africa or Chicago, Illinois, USA
Mail addresses used;
[email protected]
[email protected]
[email protected]
IP = 91.144.161.142 = Yoshkar-ola in Russian Federation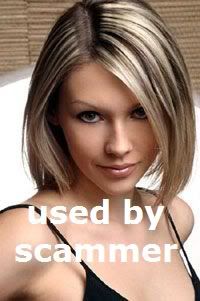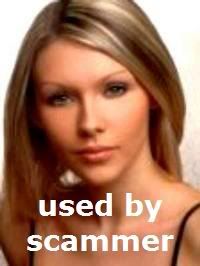 This scammer on these following dating sites;
http://www.dating.az/users/az/21292.htm
Ad sweetnastya28
Yuzerin Ad? Nastya
Yuzerin Soyad? Potehina
Ad günü 06 Iyu 1981
Bürc X?rç?ng (tr zodiac sign cancer)
Cins Qad?n (tr female)
Orientation Heterosexual
Body type Very Cuddly
Tani?l???n m?qs?di Romantika, Uzunmüdd?tli ?laq?l?r
Ölk?(??h?r) Kazan
Ail? v?ziyy?ti Subay (tr single)
U?aqlar Yox (tr no children)
Boy 173 sm
Ç?ki 57 kg
Hair color Blonde
Eyes color Brown
Religion Christian
Smoke Non-Smoker
Drink Occasionally
http://www.lovetopping.net/pl_1244283309_eng.html
Nastya Potehina
Country Russia
City Kazan
Birth Date 6 July 1981
Heigth 170 cm
Hair Blond
Weight 57 kg
Eye Green
Children I have no children.
Education University
Profession Salesperson
Smokes No
Drinks On holidays only
http://www.youcangetme.com/profile/nastyamilashka?amorix
Location: Russia nastyamilashka

Gender: Female
Age: 30
Orientation: Straight
Looking for: Friendship
http://fr.netlog.com/nastyamilashka
nastyamilashka Fille - 30 ans, Cape Town, South Africa

Hobbies fitnes
Relationship Status Single
Sexual Orientation Straight
Date of Birth 05/12/1978
Hometown Cape Town (Western Cape) South Africa
Occupation The doctor
message;
Hello!!! My name is Nastya. I am 28 years old. I live in the city of Kazan. From many people I liked yours on a site of acquaintances and I think, that you are very interesting person. I have decided to use chance to get acquainted with you, to begin correspondence and to learn you. I the usual girl, as well as was a lot of others which at my age dream to get acquainted with the man and to create family. It seems to me, that you the man which is ready to get acquainted and create family. I think, that I have made a correct choice having written to you. I with impatience shall wait for your letters on mine email

[email protected]

Yours faithfully Nastya!!!
Photos - are scammers using yours?
click here
Are you falling for a love scammer?
click here
Never send money by Western Union/Moneygram.
Never give personal information.
Online anyone can claim to be anyone, any age and from anywhere.