SCOFIELD RAYMOND
Liar and romance scammer
User name used scofield35
Claims 35 years old, dob 17th march 1974, single with no children, "civil engineer" living in Lodi, a borough in Bergen County, New Jersey, USA
Mail address used
[email protected]
IP = 41.219.215.138 = Lagos, Nigeria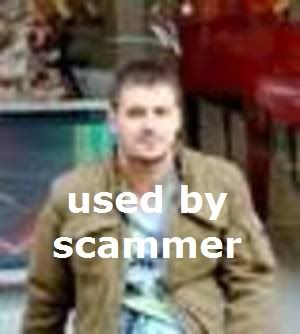 This scammer on this dating site
http://www.datemefree.org/profile.php?ID=123546
scofield35
- 35 y/o male
- NJ, USA
- civil engineer

ProfileType single
Sex male
Children 0
Want children Yes
Date of birth 1974 - March - 17
Height 5'8" - 5'11" (171-180cm)
Body type Average
Ethnicity Caucasian
Religion Christian
Marital status Single
Education PhD/Post doctorate
Smoker No
Drinker Rarely
Details of the person you are looking for
I look for a female
Looking for an age range 30 - 75
Relationship Marriage

I`m a cool and good-looking whose interested in settling down.

Am here to look for a caring and loving woman i can call truly call mine and start my life with.
Mails;
Great to hear from you and I understand what you said,I believe chance is about Discovery and am willingly to get to know you more and see how far we can go from there,the Relationship I am looking for is deep exclusive spiritual and physical,I believe in friendship at first, then honesty, loyalty, respect then care follows .... This is what I wish, but I know that future remains amystery and never guaranteed. So I think that everything should start with a good intentioned of friendship and we take it from there,I'm 35,6'1 with no kid,I treat my woman with protection,Love,Respect,endless Caring and attention,I have a young soul in a fit body,In general, the happiest moment of my Life is Now,I Really want to bring something out of this friendship and know how far we can go from there,i will like you to mail me back if you get this message and have also added you to my messenger id for a better chat,bye for now.
Raymond.
Thanks for getting back to me below is just the little i can think of about me now for now.....

My name is scofield raymond am 35 years old a citizen of the states,i live in NJ,lodi precisely,i work as a civil engineer so i travel alot due to the nature of my job,am the only son of my parents i enjoy movies, television, music and traveling, am a non smoker and i drink occasionally,I believe in enjoying life and i have a healthy attitude about God and the Bible.I'm a very outgoing person, who loves to dine out travel and enjoy the simple life i have a good sense of humor and I like to make you laugh. I am an honest heart that's looking for a stable relationship. I understand it is important to lay down lasting foundations for a lasting relationship. I am an active person who enjoys cycling and running best. I believe keeping fit is important. I am not interested in games or drama. Well I do not expect a lady to be a servant to me, spending all her time working and cleaning,I believe there is give and take in a relationship, and I realize that at times it's more convenient for me to do laundry, cook, clean, and I have no problem doing that I am generally an optimistic person with a sense of humor, fairly easy-going, and I don't think that I'm too critical about things, but I also believe that it takes two people contributing to a relationship to make it work,i will attach some of my pictures to this mail and i will like you to do the same,i just hope we are going to make something out of this relationship,i will be looking forward to chat to you,bye for now.
Message;
Hello pretty your profile is quite interesting,am also here to look for who i can call truly call mine and start my life with,i will like to have your email address or contact me at

[email protected]

so that i can mail you about me and see how we can make this work,i will be waiting to read from you pretty.
Photos - are scammers using yours?
click here
Are you falling for a love scammer?
click here
Never send money by Western Union/Moneygram.
Never give personal information.
Online anyone can claim to be anyone, any age and from anywhere.