Jerry Fette is a name used by a romance scammer, the following emails will be sent to his victim after they are advised he has had a very bad accident
Subject: for your perusal

From:

[email protected]

To: Removed

CC:

[email protected]

Attention madam,i have been instructed by my client,Mr.Jerry Fette,to

contact you because of the changes he requested concerning the final

update of his legal testament.

Mr. Jerry Fette, has degreed that the beneficiary status of his will

be transfered to you immeidtaely without delay.

Also, he has directed me to prepare a power of arttorney on your name

which will empower you as the legal beneficiary to he late fathers

deposited fund with ABBEY NATIONAL BANK LONDON

You should send the following informations to me immediately,so that i

can prepare the legal testament according to my client stipulations.

(1) Full names,

(2) Full address,

(3) Country of origin,

(4) Age,

(5) Telephone contact.

Thanks, Stan Lawrence Brown.
Interesting because the email address of the lawyer comes up in this scam
viewtopic.php?p=14600&sid=e080c32d599d193c0164a74ffa8002f8#p14600
Subject: FROM STAN LAWRENCE BROWN

From:

[email protected]

To: Removed

CC:

[email protected]

Dear Madam, please find the attached file for your perusal, it contains the legal power of attorney that gives you the legal right over Mr. Jerry's final testament, though you are not entitled to see it till the appropriate time, unless otherwise stated by the principal.

Also, you must understand that there are some conditions attached to his testament because of his daughter which you have to act, and be as a mother and guardian.

Finally madam, I want you to know that My client has some serious medical conditions, from my observance, he trust and believe in you so much, in fact presently now, you are the source of his happiness, so I would like you, to always remind him to take his medication adequately.

Regards

Stan Lawrence
Here is a recent picture used by this scammer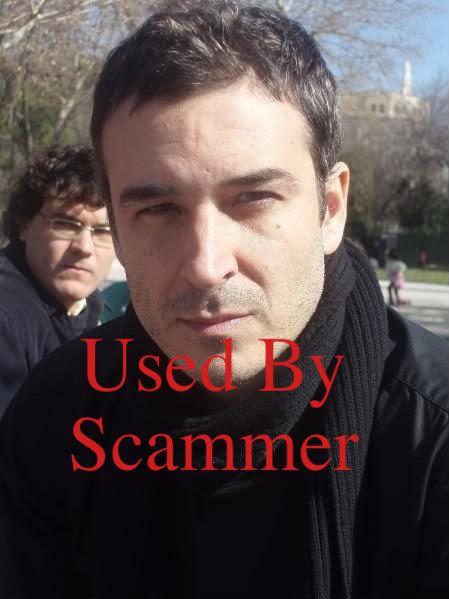 Jerry loves sending stolen poetry
Ever since you walked into my life, I have been smiling. There hasn't been a day when I have gone to sleep with a frown on my face, and it's all because of you. Honey, I am glad that you came into my life. I have always wanted the love of my life to be understanding, loving, caring, faithful and most of all someone who would accept me for who I am. Now I have found the person I was looking for. My heart told me that my Charming was there when you first said hello to me over the phone. I didn't have to think twice when you asked me to be your wife. I knew that you were Mss. Perfect. I don't think that there is, or there could be, anyone better than you out there for me.

I love you with my whole heart. I have never trusted anyone the way I trust you. Sometime I even doubt myself, but I know I will never doubt you because you are my true love. I know deep down inside that you will never break my heart or never let me down in anyway.

Thank you honey for everything. I pray to god everyday to bless you with everything you deserve. I will love you until the end of time.

Always and Forever Yours,
Jerry
here is where this email originated
Click Here
When I feel so confused & my life so weird,
I just turn to you so that I could breathe.
You make sense to everything that I hear or see,
Because you are my soul, thoughts & dreams.

Because of you in my life,
You made me realize how life can be so wonderful.
You gave me love & strength,
You made me believe in love one more time.

In your eyes I see my destiny,
In your smile I see hope.
In your dreams I see success,
In my life I see you.

You made me breathe again,
You made me feel comfortable.
You took away the heavy burden on my heart,
& you took away my pain.

You gave me something that nobody can get,
You gave me your love.
You gave me the key to your heart,
& you took away mine.

You are always in my thoughts,
In my dreams I see you,
Kissing me & hugging me,
& giving me the love that is so pure.

I love you like I've never loved before,
I love you because of your love to me.
I love you because you help me find my goal,
I love you because you believe in me.
Once again the poem is stolen
click Here and you will see other examples of that poem
A fake bank will get involved, this is almost certainly the same person using a different email address
[email protected]
Please note, there is a real bank with a website
www.abbey.com
this scam replicates that website
Removed,

we have received all the necessary approval documents and authorization from the various concerned ministries as stipulated by the, United Kingdom government, and also from our bank legal department, to transfer the deposited fund of Mr. Jerry Fette ,to you as the legal beneficiary, as agreed and certified by barristerStan Lawrence Brown.

Furthermore, all the supporting documents from the court and other authorities, presenting you as the legal beneficiary of this fund, have been deduced by our legal department, after thorough verification. Thus, you are required to send your full personal information and a scanned copy of the data page of your international passport or drivers license to us, for final clarification and examination.

After receiving the above mentioned documents, we will commence your transfer process immediately, by following due legal banking procedure for non resident beneficiary fund transfer as stipulated by the United Kingdom will/inheritance bureau.
Yours sincerely,
Desmond Francis.
We hope to add more information as it becomes available