STEPHINE JOHNSON
Liar and romance scammer
User names used stephine20 stephine2000
Claims 32 or 34 or 35 years old, dob 1th January 1989 or 27th March1975, divorced "management/executive" living in London or Leeds, England, UK
IP = 41.208.139.84 = Senegal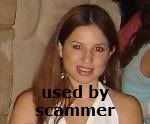 This scammer on these following dating sites;
http://www.itsdate.com/profiles/yslrsvvxshffcqi0.html
stephine20

34-years-old female
From United Kingdom
Seeking male: 25 - 60

looking for peopel to chat with

I am Stephine johnson from the UK. I am tall and good
looking. I am here to look for freinds around the world to
communicate with and be of help to each other

marital status: Divorced
eyes: Brown
hair: Light blonde
body type: Average
tall 5'8 (173cm)
weigh 140 lbs (64kg)
education: Bachelor's degree
smokes: No, don't smoke
drinks: Socially
has children: Yes
job: Management/Executive

I am just looking for friends around the world to talk to
http://london.flirtbox.co.uk/stephine2000
Stephine2000 (35) from London, England

I am Stephine Johnson from the United Kingdom. I would like to meet friends from around the to communicate with and be of help to each other. I am an easy going lady. that is all about me for now, if you want to know more about me drop me a note and we see what happen next

Username Stephine2000
Sexuality Female seeking Male or Female
Age 35
Starsign Aries
Area United Kingdom, England, London
Town London

Height 5´ 9" (175 cm)
Bodyshape about average
Haircolour blonde
Hairstyle long
Eyecolour green
General appearance European/White

Occupation Hotel Management
Profession management
Education Bachelor
http://www.blackplanet.com/stephine2000/
stephine2000

Sex: Female
Age: 34

Location: United Kingdom
Race: White
Zodiac: Aries
http://www.truchristians.com/personals/stephine2000
stephine2000

Sex: Female
Country: United Kingdom
City: leeds
Date of birth: January 1, 1989

I am stephine johnson from the united kingdom, I would like to meet friends around the world to communicate with and be of help to each other. if youare interested of knowing me more better drop me a mail then we see what happen next
http://www.4ppl.com/stephine2000
stephine2000

looking for people to communicate with

Age: 34
I am a: Woman
Location: London, England, UK
Birthday: 27.03.1975
Looking for: Woman, Man
Relationship: Woman
Language: English

I am stephine Johnson from London. I would like to meet both male and female here for communication and be of help to each other. if you are interested of knowing me, just drop me a note.
Message;
stephine20 34 years old from London, England, United Kingdom

looking for people to caht wit - Hi Everyone, I am Stephine Johnson from the United Kingdom. I would like to meet friends from around the world to commun....
Photos - are scammers using yours?
click here
Are you falling for a love scammer?
click here
Never send money by Western Union/Moneygram.
Never give personal information.
Online anyone can claim to be anyone, any age and from anywhere.