MARINA
Liar and romance scammer
Claims 27 or 28 years old, dob 9th July 1982, single, no children, "charity worker" living in Kirov, Province of Kirov, Russia
Mail addresses used;
[email protected]
[email protected]
X-Mailer: The Bat! (v3.0.1.33) Professional
IP = 188.187.140.177 = Yoshkar-Ola, Republic of Mari El, Russia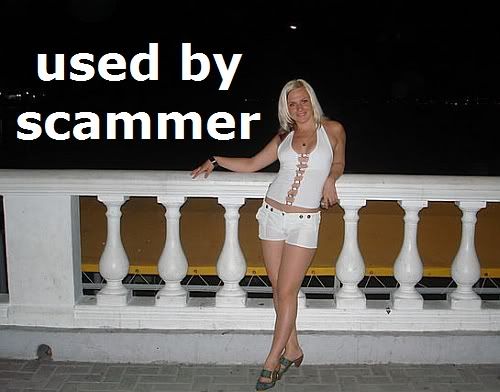 Messages;
Hello my xxxxx

Have not message from you for long time! Have you forgotten about me?
Hope u remember me glad to see me ?

How are things going?
I am still single and summer already gone.. all of my friends are hanging out with their boyfriends and I am alone.
Maybe we might get to know each other better and perhaps this autumn will be not lonely for us?

I have registered my profile here - why don't you come and see my new photos? And maybe even contact me ..

Need you Marinochka
hi

unfortunately, I don`t know your name and don`t know how I can call you. well, I`ve just saw your profile.. it is very cool think.

You can see my profile and my pic and if you like it please write me back. I am new here and if you find me interesting I would prefer to write you something about me and send my other pics by email.

so please write me your email and we will talk. but please don`t send me flirts.
it is very boring and I want you to know I will never answer on your flirt.
write me. it would be more better. and don`t be scare please. i am not a gamer.
i am genuine person.

thank you and take care. bye bye

heavens babe.
Mails;
Hello xxxxx.

I hope, that you have good day and good mood. It Marina.

I have good mood, as new acquaintance - It is interestingly always.

The acquaintance through the Internet is possible To consider as something new to me, because I did not meet The people thus never. I want to tell a little about myself now. My name is Marina. I'm 27 now. I was born July,9 1982. I live In Russia. I hope to find the serious relations with the man in the Internet, As I was disappointed by the men from Russia. They abuse much alcohol and do not respect the women.

I am single also I not I have children. I live with my grandmother. We have small apartment in new area of city. I use Internet - cafe to write to you the letters, as I have no the computer of a house and Internet too. I want to learn about you too and ask, that you wrote me about job and about to your family too. I want to know, what you want new in your life?

My main desire it to create amicable family and maybe to have children. I think, that I the adult woman already and I am ready for this purpose. I put some of my pictures, that you could see me, in spite of the fact that we far now. I ask, that you sent me your pictures too.

Write me your next letter on

[email protected]

I wait your fast reply, as it will be interesting to me to learn about you something.

Your friend Marina.
Hi my new friend xxxxx.

Is glad to receive your new letter and to learn about you it is more. I hope, that I have interested you and we let's have correspondence with you. I shall be glad to answer all yours questions, as I want, that you knew about me too. I have not very good English, but I studied English at school. I want to tell about myself little bit more. I live in small city Kirov.

Mine the city is located in 992 kilometers from Moscow. My city small, but very beautiful, Kirov here is on the river Vyatka. We have beautiful quay. In a circle of city there is a beautiful wood and a lot of small lake. In the summer we go for city often. I want to speak about my job still.

I work in fund of the help to the homeless people and children - orphan. I like my job, as I like to help other people. Our organization actively cooperates with " a Red Cross ". I leave on a street and I distribute by him meal, because they have no money for this purpose. The employees of our fund collect clothes, warm things. Then we give back it to the poor people for nothing. Also we visit shelters for the children - orphans. I want to tell to you slightly about myself.

For fun I love to read the books, to go for a walk in park, to attend a sports hall, also I like to go with the friends in theatre and to listen to quiet music. I want to get acquainted with the serious man, which is ready to begin the serious relations. I want the favourite man, which will be to me the friend also. I want trust and respect in the relation with him. I want, that you wrote about the job too, as it is interesting to me too.

We have no telephone of a house, as our apartment is located in new area of city. And there is no telephone line still. I have no the brothers and sisters.

xxxxx I wait from you the new letter and your new pictures. I shall send my picture in the following letter.

Marina.
Hi xxxxx.

How you today? I am glad, that you have found time to write to me. I write you after job.
I had today heavy day, as we went for city on job. But not looking that I am tired, I have decided to visit Internet - cafe and to write to you, as I am very much interested in you. I hope, that you with pleasure find time to answer to me, as your letters bring to me pleasure. I would like to learn as you have a rest in free time, xxxxx. What sports you like.

I like volleyball, tennis and aerobics. What films you prefer to look, what music you listen to? I like to listen classical and instrumental music. It very relaxing for me. And I like a romantic, family films. My favorite film - " What want women" with Mel Gibson. Did you see this film xxxxx?, what you think of these volleyball and aerobics? I very romantic woman and consequently I like to look films about love. But I like comedies too.

xxxxx, I have forgotten to speak you, that I like to cook also. You tried Russian foodstuffs? I would like to cook you something from Russian sometime. And I think that you will like Russian food - pel'meni and soup "borsch".

xxxxx, I think, that everyone the man likes fast driving the automobile. Dear, you have the automobile? What stamps of automobiles you prefer? I have no the personal automobile but I like Ford and BMW and sometime I'd like to learn on driver but I haven't free time for this. I hope, that you find time to answer my letter. I shall wait your letter and pictures with pleasure.

Yours Marina.
Photos - are scammers using yours?
click here
Are you falling for a love scammer?
click here
Never send money by Western Union/Moneygram.
Never give personal information.
Online anyone can claim to be anyone, any age and from anywhere.