GIFT ADEL
Liar and refugee/romance scammer
User name used Lovely One - govlove4u
Claims 23 or 24 or 25 or 26 years old, dob 14th January 1984 or 10th march 1983, single, never married, no children, "student" living in Abidjan. Ivory Coast (Côte d'Ivoire) or New York, USA or Dakar, Senegal
Mail addresses used
[email protected]
[email protected]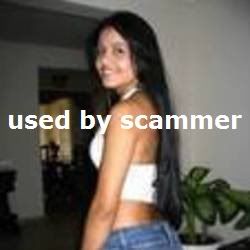 This scammer on these following dating sites;
http://www.lovelandia.com/authors/giftlov.htm
Lovely One

Age: 24

I am a: Woman

Location: Abidjan

My name is Gift Adel 23 years old girl from ivory coast open minded and careing baby you will love to meet as your partner . Love
http://solenex.com/profile.php?ID=205
NickName: govlove4u
Sex: female
Age: 25 y/o
Occupation: student
from: abidjan, Cote d'Ivoire

Profile type single
Sex female
Children 0
Want children Yes
Date of birth 1984 - January - 14
Height 6'4" (191cm) or above
Body type Average
Ethnicity African
Religion Christian
Marital status Single
Education Some grad school
Smoker No
Drinker No

My name is Gift Adel 23 years old , open minded and lovely baby , iwhich to meet someone for last long relationship
http://www.beautiful-ladies.com/marriage/dating_profiles/004444-GIFT-search-for-dating.htm
Name: GIFT

Age: 26 y.o. (March 10, 1983)

City: new york

Country, State: United States of America; new york

Hello, it give me a great pleassure to write you after viewing your profile, which really interest me to have communication with you, if you will have the desire with me so that we can get to know each other and for me to send you my picture for you to know whom iam, i will be very happy if you can write me through my email for easiest communication. my email is (

[email protected]

) i will be waiting to hear from you. have a blessed day. from Gift. (Remeber the distance ,colour or age does not matter but love matters alot in life)

[email protected]
Mail;
Hello My Sweet Heart

I am more than happy in your reply to my mail.How are you today?,Mine is a little bit hot over here in Dakar Senegal.My name is miss Gift Huma, from Ivory Coast in West Africa,5.7ft tall, fair in complexion,(never married before )and presently i am residing in the refugee camp here in Dakar as a result of the civil war that was fought in my country.My late father Dr Zaki Huma was the managing director of Huma and Associates (Ltd) and he was the personal advicer to the former head of state (Late Dr Robert Guei) before the rebels attacked our house one early morning and killed my mother and my father in cold blood.It was only me that is alive now and I managed to make my way to a near by country Senegal where i am leaving now.I would like to know more about you.Your likes and dislikes,your hobbies and what you are doing presently.I will tell you more about myself in my next mail.Attached here is my picture though l am not photogenic but l want you to take me as l am ok. it is from me and l hope to hear from you soonest.
yours in love.
miss Gift.
Photos - are scammers using yours?
click here
Are you falling for a love scammer?
click here
Never send money by Western Union/Moneygram.
Never give personal information.
Online anyone can claim to be anyone, any age and from anywhere.