ROBERT BENNET
Aka Robert Stone
Liar and romance scammer.
Claims 45 years old, ex American-miltary marine diver and widower with dependant son "jeff" who is 12 years old. He also claims that he own an antique store and travels to Africa for stock to sell. Also claims to have been widowed for the past 5yrs 7months after "wife" shot by robbers.
Maill address used
[email protected]
IP = 82.128.27.40 = Nigeria (Lagos)
Scammer will send these photographs and images of antiques;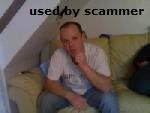 Mails;
Hello ....

I just went through your message and checked ur profile again and i liked it so much so i thought i should write... Actually, I got your words and it really impressed me so much, well, I just wanted to let you know the kind of person I am, I am a man that is in need of real and perfect love, I need a woman that can take me through, see , I have been hurt so many times by different women and wouldn't want that to happen to me again.....thats the reason why I said that I need love.... I am far from a millionaire and am not out for anything but love from someone. Having someone that loves you and supports you in your life through good and bad times and won't give up on you is what I am looking for. Honesty and trust are what makes a relationship work. I prefer to watch a movie or attend the theater rather than read a novel. I also enjoy travel, experiencing different geographies and people and their cultures.

My eyes are brown, and my hair color is light brown that goes with it..lol. I do not smoke. I do drink on social occasions and well concerning sexuality, I am not a promiscuous man. My desire is to be sexually faithful to the woman i`m married to.. If two people love each other and will communicate what they like and do not like about their partner's sexual behavior, I believe many problems can be resolved. Moreover, I am currently working on my own,after retiring from the military,i was an EX-AMERICAN MARINE work with them as an Ocean Diver.......i just got ventured into this new line of business of collecting antiques...it is a new venture for me...i started this with what i was payed off for while i was in the service for 20yrs...i buy and sell antiques and well i am on a trip to get some antiques in WEST AFRICA from here next week..it aint fun anyway but i will be back home soon, hope to hear back from you Remember, I need real love..i dont play games and i aint ready to be played......i also write poems in my spare time

Robert...xxx
Hello ,

How are you doing today?you really sound interesting to me and i am willing to start building a strong relationship with you....I really want you to send me more of your pictures so i can save them on my computer......I still want to talk more to you on chat....I want you to remember i will be going for the Trip by weekend and i want us to keep communicating everyday....This will make us grow fast in knowing each other....

.....we really need to talk more because i am don't want to get hurt anymore and i am not ready to hurt anyone too....also i need Honesty with Trust and Understand....with this our relationship will be strong forever....Please let me know your mind and open up to me with anything you have in your mind......I hope to read from you soon....Kisses and Hugs....


Robert...xxx
Hi Sweetie,

I am sending you the peom....i am tired of been lonley...i really need you in my life...I hope you will like this?

take my hand and lead the way..
tellme all you want to say..
whisper softly in my ears,
all those things i want to hear..
tell me affectionate..all your words
you want to do..
kiss my lips and touch my skin..
bring out passions deep within..
pull me close and hold me tight..
take away my all scares,fear and pAIn...
in the darkness of the night be my beacon,shine your light..
in the brightness of the sun..show me that YOU babe is the one...
give me wings so i can fly..
for i can soar when you nearby..
enter my heart brake down the wall..its time for me to watch it fall...
i've been prisoner,cant you see?
break the chains and set me free
strip me of my armor tight..
you'l find i wont put up a fight!
Release my soul to helf deep within
IM ready NOW..LET THE LOVE BEGIN!!

Robert...xxx
Note - above poem stolen from
click here
?
Hi Sweetie,
?
This is another poem for you today....Hope you like it...
?
Drinking an early morning coffee
As I so often do.
I find my mind wandering, thinking
Longing thoughts of you.
?
I go about my day doing
All the usual things.
But you are always there
Forever creeping in.
?
When the night arrives and
It's time to go to bed.
Even when I sleep
you're always in my head.
?
Dreaming all night long
Sweet and loving thoughts..
Daylight comes again once more
Now I can daydream as before!
?
?
Robert...xxx
This poem stolen from here
http://shasha-unsouled.blogspot.com/
Photos - are scammers using yours?
click here
Are you falling for a love scammer?
click here
Never send money by Western Union/Moneygram.
Never give personal information.
Online anyone can claim to be anyone, any age and from anywhere.